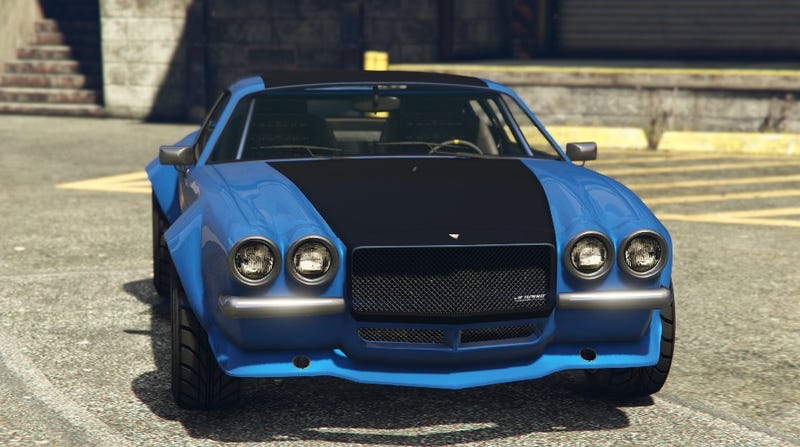 Now that I'm done with classes for this semester, I can get back to gaming on my PC. So I got right back into GTA Online to explore the changes and additions from the past few updates; I've bought some stuff and made some observations:
First off, I bought this Imponte Nightshade - it's split-bumper Camaro hotness in the front, and Firebird in the back (there's a little Jaaaaag in the front end, too, as some have observed). The folks who are into racing seem to have given it a pretty "meh" reception, and the Nightshade's price is obscene, but I'm fine with the performance and I love the looks. I like the engine sound when you lift off of the throttle; it otherwise seems to sound similar to trucks, but that's fine.
Next, I bought the non-armored version of the short-wheelbase Benefactor Schafter V12, which is basically a Mercedes-AMG S63. It sounds badass, especially at startup; I like using the new vehicle remote functions (which are awesome IMO) to listen to it. It's very fast and has good handling; I'm kind of amazed that they priced it relatively inexpensively, given what this car can do as well as how cash payouts have changed. I think I'll pick up the armored version to go with it once I have the cash. I'd like to try out the Turreted Limo version (basically the Stretch E from The Ballad of Gay Tony with a gun like the one on the HVY Insurgent Pick-Up, as well as the Schafter V12's wheels).
Oddly enough, my Schafter V12 had the Grand Theft Oppo crew logo on the hood when I restarted the game once; I don't recall ever applying it, but the logo won't come off, just as it wouldn't for a Comet that I recently sold.
I haven't taken the Schafter LWB out for a spin (same noise and aesthetics as the V12, just longer), though I've heard that it's closer to the regular Schafter in performance. They also introduced a new version of the 2013 Gallivanter Baller, the Baller LE; there doesn't seem to be as much of a difference in performance between the 2013 and SWB LE Ballers than there is between the standard Schafter and Schafter V12, which kinda sucks since the Baller LE gives off an RR SVR vibe. I do like the overall look, and the front bumper and exhaust tips in particular.
They also reintroduced the Cognoscenti sedan from GTA IV and added a shorter 55 variant, though I haven't driven those.
The Declasse Mamba (which isn't a Vapid model, for some reason) and Bravado Verlierer are pretty good too, IMO. I'd like a Mamba as well as a Willard Faction Custom, but I don't currently have much in-game cash on hand. I wish I'd been able to get the Halloween Surprise cars.
They tweaked some stuff; one annoying tweak that I've noticed is that the camera sometimes changes to the second 3rd-person view rather than the farthest 3rd-person view that I have set as the default. No Prius Needed told me that you can make a custom radio station now, but I haven't explored that. I also noticed that the performance mods for cars are now unlockable by leveling up; I'm very happy about that, as I haven't participated in many PvP races and thus hadn't unlocked many performance mods before now, but I was past Rank 100 at the end of the summer. I've noticed that the Vagos' Cavalcades are now green in color, which makes distinguishing them from traffic a little easier; kind of a minor detail, but hey.
I haven't cleared through the Lowrider missions yet and need to do some Heisting. I don't know whether I'll be able to make it through one or more Heists, though - my game has frozen a few times (I've cleaned out the CPU fan a bit and relocated my computer to fix this), and my wireless mouse seems to have finally bit the dust after three years of use.