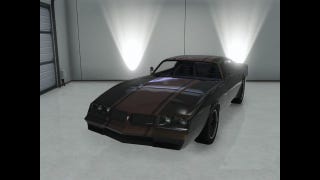 (Welcome to GTA Oppo Car Review, where each review will go in-depth with a car in GTA V/Online.
Scores will be based on a similar formula to Jalopnik reviews, with a score out of 100 based on 10 categories: Exterior, Interior, Acceleration, Braking, Ride, Handling, Gearbox, Toys, Audio, and Value.)
The Imponte Phoenix, a late relic of the original Muscle Car era. Big, powerful engines with relatively poor handling.
Exterior: 8/10
Let's face it. This isn't a Grotti Stinger, Pegassi Monroe, or Dewbauchee JB700...European sports cars from the 60's and 70's with drop dead gorgeous bodies that can attract just about every woman within a 20 mile radius of of the car, and some of the most gentlemanly drivers around.
Here, the Phoenix oozes masculinity in a different way...a more hard-boiled, down and dirty, nitty-gritty sort of way. It's more Steve McQueen or Burt Reynolds than Sean Connery or Michael Caine.
Interior: 7/10
The inside is just as you'd expect with a muscle car of the era. 3-spoke steering wheel with column adjustment, billet dashboard gauge surround, the manufacturer's name on the glove box and headrests.
No power windows, power locks, no navigation screen. But it does have some pretty comfy leather seats.
Acceleration: 7/10
It's pretty quick off the line, a bit of wheel spin. Might have been a little faster, had it been a manual transmission, but unfortunately, our test car came with an automatic.
Fortunately, the engine is a Turbocharged V8, tuned by the Imponte Racing division.
Braking: 4/10
It's not terrible. Doesn't stop on a dime, but doesn't leave long black lines on the pavement on the way to 0.
Ride: 6/10
It's smooth. Not Benefactor smooth, but for a 70's Muscle Car, it's not bad. Handles dirt well, takes bumps rather decently.
Handling: 5/10
For a Muscle Car, it's good. For a Classic Car, it's adequate.
Loves to get the back end out around tight corners, though it smooths out a bit after a while. Still feels a bit jerky, and you gotta really know how to turn the wheel, otherwise it'll throw you a curve you don't wanna take.
Gearbox: 4/10
It's an automatic in a Muscle Car. It does the job, but you can tell there's something missing.
Toys: 4/10
Not much to say here. Power nothing, AM/FM stereo with 2 speakers, AC. Nothing much else beyond that.
Audio: 9/10
The engine sounds phenomenal, the radio is pretty good for the era's technology. Overall, the highest score on the car.
Value: 7/10
While the car's original price was somewhere in the $7-8k area, it's current value is around $20k. Pretty good in comparison to the $32,000 price of a modern Bravado Gauntlet, or $35,000 for a modern Vapid Dominator.
Of course, you get a lot more standard equipment, but for the age of the car, the fun you can have with it, and the price...it's pretty darn good.
61/100
Engine: Turbocharged V8 (likely in the 6.5-7.5-liter range)
Power: Not Listed
Transmission: Four-Speed automatic (assumption)
0-60 Time: 6.5 seconds (estimated)
Top Speed: Not listed
Drivetrain: Rear-Wheel Drive
Curb Weight: Not Listed
Seating: 4 people (game only allows 2)
MPG: Not Listed
MSRP: $20,000 (current value, based on Los Santos Customs trade in value, which is 1/10th the car's retail value)
(Image Source: GTA Wiki)