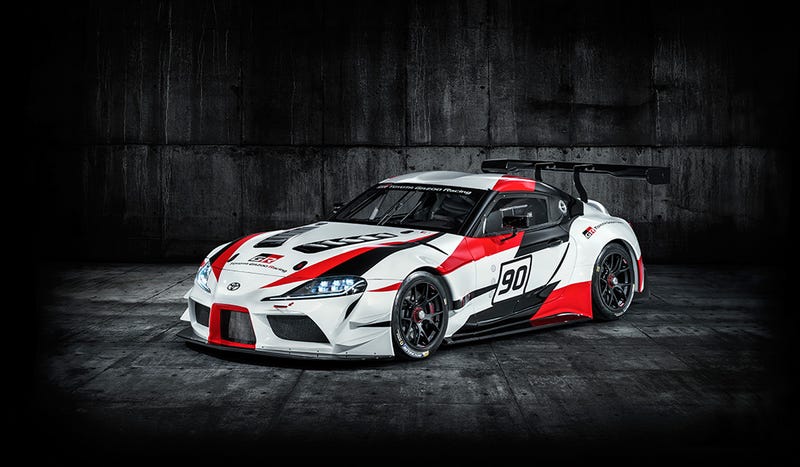 GR SUPRA RACING CONCEPT

A compact, two-door car, the GR Supra Racing Concept has a pure front-engine/rear-wheel drive configuration and makes use of advanced lightweight materials in its construction.

Created by TOYOTA GAZOO Racing, the concept perfectly expresses the "fun to drive" quality that is intrinsic to Toyota's commitment to making ever-better cars. The large "90" race number on its doors is a historical reference to Supra's codename and a big visual clue to the fact that this concept heralds Supra's return in a fifth generation.

Its development is true to the belief of Kiichiro Toyoda, founder of the car company, that participation in motorsport provides the challenges of performance and durability that can directly help develop better cars, while at the same time generating interest and excitement among motoring fans.

This ethos has been fully embraced by both Toyota Motor Corporation President Akio Toyoda and by TOYOTA GAZOO Racing, with the pursuit of success at the highest levels of international motorsport, including the World Rally Championship, World Endurance Championship and the Le Mans 24 Hours race. Taking part in these and other racing series around the world provides technical learnings that can be transferred from the race track or rally stage to development of not just new generations of Toyota's sports-focused GR models, but also to its wider range of vehicles, driven by tens of millions of people around the world.

The GR Supra Racing Concept is to be featured in a new update of the Gran Turismo Sport video game, developed by Polyphony Digital Inc., and scheduled for release in April 2018.

DESIGN, CHASSIS AND EQUIPMENT FEATURES

The racing concept has a dramatic bodywork design that includes a large rear wing. It makes extensive use of strong but lightweight composite material for elements such as the wide front and rear bumpers, front splitter and rear diffuser, side skirts, door mirror housings and the rear wing. The hood is crafted from the same material and features louvred air inlets. The windscreen and side windows are made of plastic.

The concept's chassis features lowered front and rear suspension using original equipment (OE) components. BBS racing wheels with centre-nut attachment are fitted with Michelin racing tyres. The braking system uses Brembo Racing callipers and discs and there is a racing exhaust.

The cabin is entirely competition-focused and is fitted with a racing dashboard and OMP driver's seat and safety harness. OMP has also supplied the quick-release steering wheel, mounted on a racing column and equipped with a paddle shift system. The doors are lined with carbon fibre panels and the dashboard includes a racing display.

Competition safety requirements are met by a full roll cage and fire extinguishers, and the fuel and brake lines, pedal box, battery and wiring looms are all designed to competition standard.