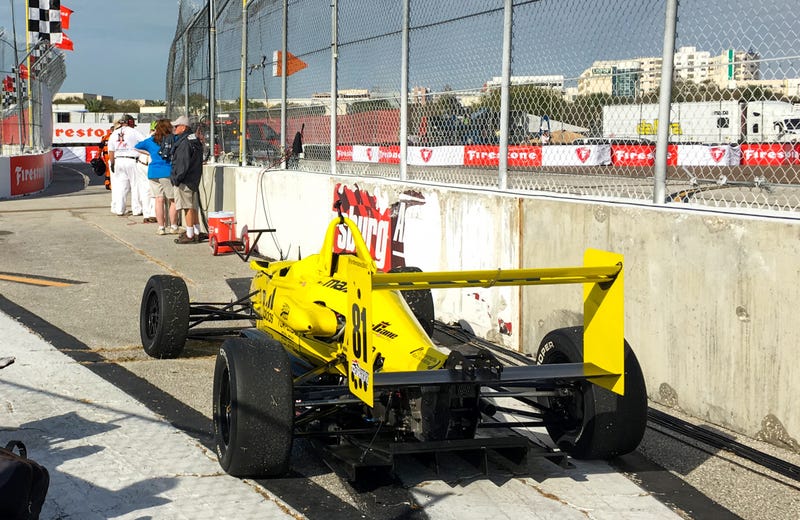 It's Saturday morning and I'm already at the track. This morning's alarm clock was the sound of Pro Mazda and Indy Lights qualifying wafting through the neighborhood. It literally scared the piss out of the dog. One USF2000 race is done, though it didn't end well for the poor car pictured above.
Pirelli World Challenge GT, GTA, and Cup are rolling out in a few. We'll see if they get off to a better start than last year's crash-fest.
UPDATE: Pirelli World Challenge race is over. No yellows! Solid race. Clean race, though the R8 got a little loose early on in turn one and a bunch of bits flew off. Pro Mazda is racing at the moment, but I need shade, drinks, and snacks. Send snacks!
Enjoy some pics.
UPDATE: Good Indy Lights race. Ran clear from one side of the track to the other to grab some pics of a friend of 2BWise who was racing in USF2000. He took some interesting but aggressive and effective WIDE lines in the final corner. The dude has balls. Really big ones.
Currently enjoying a shitty beer and some shade accompanied by a bluegrass band. Good times.
IndyCar qualifying is up soon along with another Pirelli World Challenge race after to close out the day.
FINAL UPDATE: I'm toast. Watched part of IndyCar qualifying and I'm done. Rossi didn't make it past the first round, but he showed good speed earlier. Not bad for getting a ride at the last minute. I'll be back at the track tomorrow. Time for food, a shower, and sleep.
Enjoy a few more pictures.