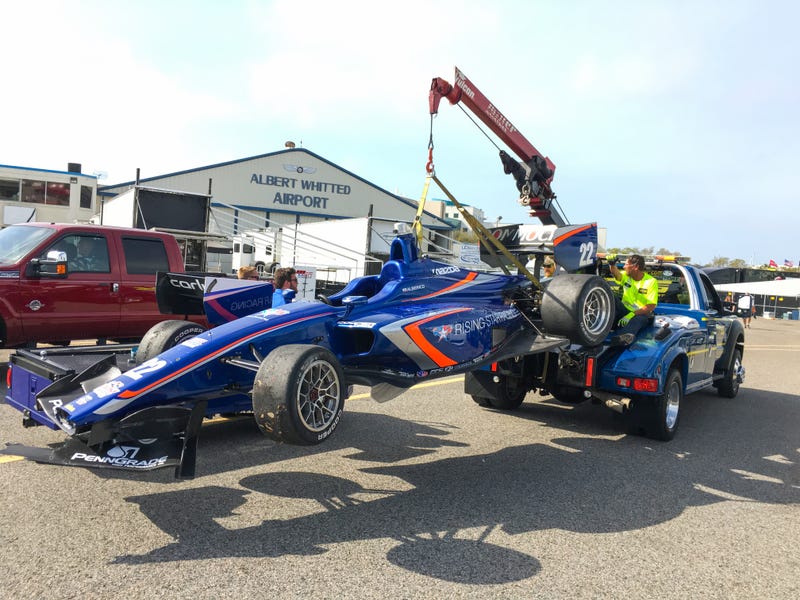 It's Sunday morning and I'm back for the final day. IndyLights just finished. It did not end well for the car pictured above. Word in paddock is that Indy pole sitter Will Power may not start the race! He set and reset (twice) the lap record yesterday. He seems to be sick and is currently questionable. He's not got much time left to figure it out. Drama in St. Pete!
Stadium Super Trucks are getting set, then IndyCar follows. More to come, stay tuned for updates.
UPDATE: Stadium Super Truck were, as always, the most fun you can have on four wheels. Post-race in turn one, where I'm currently posted up, they all did wicked burn-outs. Good times. All the debris on track is gonna piss off the Indy drivers. Speaking of which, Will Power will not race, see comments below.
UPDATE: IndyCars are in full effect. Rossi just swept by and is up to 10th! I have no idea what lap we're on. I'm sitting about 20 feet from the cars in a heavy breaking zone, turn 8 I think. It's glorious.
Here's some pics from a little while ago.
FINAL UPDATE: All done for the day. The last Pirelli World Challenge GT/GTA/Cup race was a not very green. One of the Cup Porsches crashed heavily and deranged a concrete barrier on lap two. Once they went green again, K-Pax lost two cars and another Cup Porsche bit it. Oh well.
Here's a few more pics. Got to go through the shots from the real camera and will upload them all in a day or so. All and all, it was a great weekend. Time for a nap.