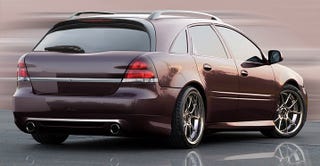 Is it bad to like this...a lot?
I was originally looking for a 97-03 W-body wagon when I came across a touring version of the last gen Grand Prix. I think it looks stunning. I have a minor issue with the silly barren hatch design but overall I think it would have been awesome.

Note: I have a soft spot for 97-03 Grand Prix's as well as sports wagons and Pontiac in general...so I hope that solves any strange confusion.