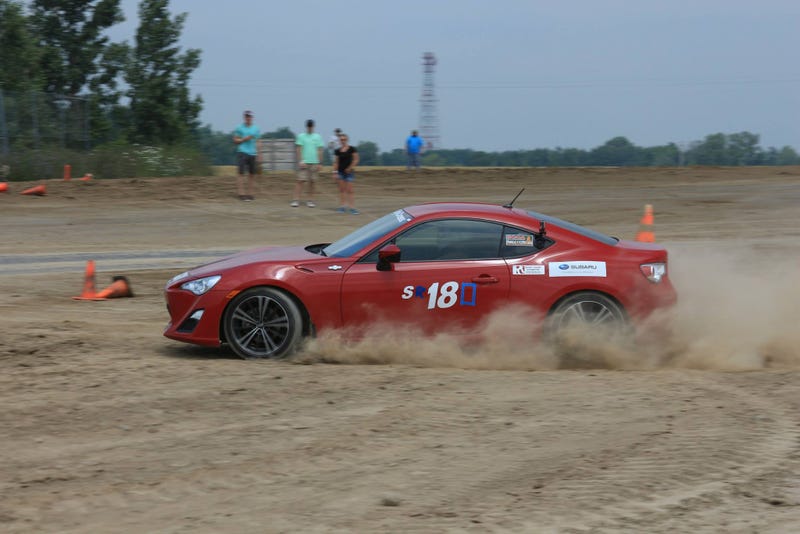 The 2015 SCCA Great Lakes Region Rallycross National Challenge ran this past weekend, 7/25-26. The heat was brutal and the dirt kept changing. I've combined all my runs into a single video below. We did 18 total.

This event ran at I-96 Speedway in Lake Odessa, MI, a local dirt oval. There were two main parts we used, the dirt track and an outer oval of loose dirt. With the heat, it should have been a smooth event. The track is next to a pig farm, however, which meant that on Saturday the owner would spray water on the track every few runs to keep the dust down.
I made a major miscalculation for the first six runs on Saturday and left my prius tires on. The grip was good in the inner oval, but on the loose, muddy dirt, I had no traction. If I got off the relatively dry inside line, I would immediately go sideways. I fell pretty far back.
Because of the watering delays, we only had 30 minutes between the first and second sessions. I ran to my car and managed to throw my winterforces on just in time for the parade lap. The traction difference was huge, and I started to claw some time back. We only had four runs saturday afternoon, so I finished somewhere mid to low pack in the field of 8. I was about 20 seconds behind third, and I was gunning for it because I wanted to try and get Subaru contingency money.
On Sunday, the wind shifted and was blowing away from the pig farm. This meant that the track no longer needed to be watered. I left my snow tires on, which was probably the wrong choice. A large portion of the track was well rubbered in, and the drivers in 1st and 2nd were running performance street tires. Third place was still using snow tires, though, so I still had a chance to outdrive them. I'm also not positive that the winterforces have that much more grip than the stock Primacy HP prius tires.
The Sunday course was a blast. This was my first rallycross since going to Team O'Neil, and I was getting good at trail braking to late apex my car and dance at the edge of traction. The crossover from the outer to inner track involved a hairpin, and I was handbraking it for most of my runs very comfortably.
We did eight runs on Sunday. For the first five runs, I was feeling cautiously optomistic. I was 2-3 seconds per run faster than the driver in 3rd. In a stroke of luck, the driver spun before the finish on his sixth run and finished with a slow enough time that the organizers gave them a DNF because it was less time. I drove my last few runs at 90%. No point in throwing away a podium. I finished the weekend in 3rd, about five seconds ahead of fourth. Seconds place, a Miata, was well ahead of me, and the class winner in a 996 was way ahead of second.

I'm happy with my result. Now I just have to see about getting that money from Subaru...
(Photo credit to Scott Banes, last one is mine)