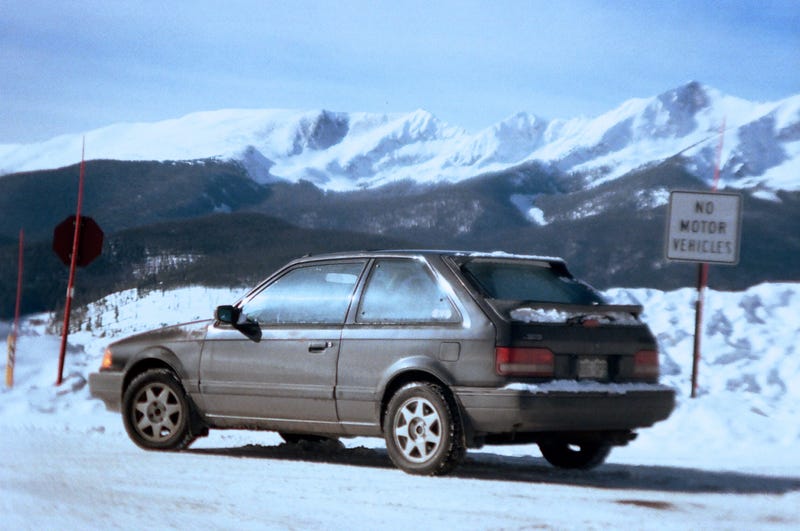 I moved 1,000 miles from Louisiana to Denver, Colorado for a new job on July 4, 2014. At the time, my only car was my 73k-mile 2002 Mazda Miata. I had planned on buying a third set of wheels for dedicated snow tires and continuing to daily drive the Miata through the winter. But as summer faded away and temperatures dropped in autumn, I started to reconsider my thinking.

Could I daily drive my Miata through Denver's sometimes-snowy winter roads? Certainly, plenty of folks do. And according to those that do, the Miata is quite capable of it. But I can't tell you what it's like to daily drive a Miata in the Colorado winter because my MX-5 still hasn't worn anything but summer tires since I bought it. Instead, I decided to get the job done with a better tool for the task.
I'm a Mazda nut, so my line of thinking started there. Didn't Mazda field some Group A rally hatchbacks in the late 80s? It did: the 323 GTX. Were they all-wheel drive? They were: with a lockable center differential. Could I track down one of the original 1,243 cars imported into North America in good condition for sale within a reasonable distance for the right price? I could: six hours away in New Mexico.
But first, some history.
Some History
Following the deadly collapse of Group B rally in 1986, Group A became the top-tier rally series in the FIA. While their power was limited in comparison to Group B, Group A cars boasted better grip and were easier to control. The Lancia Delta HF dominated this transition from Group B to A. Lancia won the constructors' title six years in a row from 1987 to 1992 and became the most successful marque in the history of the World Rally Championship.
Mazda fielded its Mazda 323 GTX in Group A and ended up taking 6th place overall in its second season of Group A rally in 1987. Famed Finnish driver Timo Salonen took his 323 GTX to win that year's snowy Swedish Rally by 23 seconds, beating out the dominant Lancia Delta HF 4WD cars.

It doesn't particularly surprise me that the 323 GTX won that year's sole snow rally, because daily driving my 1988 Mazda 323 GTX in Colorado's winters for the past three years has been an 80s fueled timewarp back to that strange era of change in world-class rally racing.
The Formula
The homologated Mazda 323 GTX road car produces 132 factory horsepower at 6000 rpm and 136 ft-lbs. of torque at 3000 rpm from its 1.6-liter turbocharged B6T motor. Just a few years later, this engine was developed into the naturally aspirated B6ZE(RS) for use in the NA Miata. Have you ever wondered why Miatas take boost so well? The 323 GTX laid the groundwork early.
Tuners have thrown hundreds of horsepower's worth of turbo upgrades at the 323 GTX, but the 5-speed transaxle is the drivetrain's weak point. Venturing beyond 200hp is just too much stress for the early AWD transmission, and it simply becomes a matter of time until the transmission breaks. But if power is kept under 200hp and the driver treats the gearbox like the nearly 30-year-old fragile component it is (No launches! No burnouts!), those gears will continue to turn like they should.
200 all-wheel horsepower in a 2,650 pound car is a great power-weight combination for snowy driving conditions, though. You don't really need any more power than that to drive fast on snow. Less than 2,700 pounds is a pretty desirable weight for sportscars in general, but on snow it's just about perfect. It's light enough to toss from side to side with ease, but it's heavy enough to plant its weight and put power to the ground.
Even without extensive modifications for more power, a mostly stock 323 GTX like mine feels great cutting through the snow with its 130-ish horses. Its stock 7-spoke 14" alloy wheels are 5.5" wide, which gives you access to a large selection of high-performance, inexpensive snow & ice tires. The combination of small, narrow wheels and good snow tires allows the little 3-door hatchback to maneuver through the snow with ease. However, snow on the road can conceal hidden dangers. For this the 323 GTX came with a steel skidplate from the factory to protect vital components.
A High-End 80s Econobox?
When you open the 323 GTX's door, the first thing that catches your eye is the massive bolstering on the factory Recaro bucket seats, with the driver's seat featuring adjustable side bolstering. The driver's seat is positioned nearly exactly between the front and rear wheels, which communicates wheelbase positioning & rotation intuitively. And the upholstery! The front and back seats are covered in a subtle blue/gray gradient design, reminiscent of Recaro race buckets. Unfortunately the woven upholstery on my driver's seat has seen some UV damage from its time in the New Mexico desert and has developed a rip in the last year.
Once you're seated behind the steering wheel, you're presented with a shrine to 1980s futurism as a dashboard. My car was optioned with the digital dash, which replaced the standard analog gauges with less precise, oddly scaled, temperamental LCD gauges which I adore. Check out that tachometer. The scale jumps all over the place. In equal increments: 0—1—1.5—2—2.5—3—4—5—6—8. Why not! Somewhat surprisingly, my digital dash is nearly 100% functioning after 29 years. Its only fault is the top two blocks of the fuel gauge never illuminate despite having a full tank; otherwise it's accurate. The character that comes from the warm orange glow the digital dash gives off at night far outweighs the occasional annoyance that comes from having the glare of direct sunlight completely obscure the digital displays.

Other creature comforts include power windows, power locks, power mirrors, and a manual hand-crank sunroof. One of my favorite design details is what Mazda calls its "Illuminated Entry System," lights on the ends of the interior door cards that shine some light down on the ground when the doors are opened after dark. The rear seats fold down for an impressive amount of cargo space. The 323 GTX also taught me about the wonders of fresh air vents. These need to come back in modern cars.
Manic Pixie Dream Hatch
The Mazda 323 GTX is an undeniably quirky car, but some of those quirks can be headache-inducing. The front brake rotors are bolted to the rear of the hubs, requiring a hub breakdown and rebuild in order to swap the rotors. A common workaround is swapping out the rotors, calipers, and hubs for Mitsubishi Galant & Ford Escort components. The stock two-spoke steering wheel was too large for my tastes, so I swapped it for a black 360mm Nardi Classic wheel. Now quick, precise steering inputs are the norm.
Parts scarcity is a very real consideration to keep in mind when it comes to the 323 GTX. These cars were only sold in the United States for two years. 1,243 were brought into North America. The turbo all-wheel drive GTX used many parts that weren't shared with the naturally aspirated, front-wheel drive mass-produced 323s. A few other cars share the B6T engine, like the Ford Laser TX3 and the Mercury Capri XR2, but the transaxle and center differential are unique to the 323 GTX.
When I changed the brake rotors & pads in the fall of 2015, I tracked down and purchased the very last rotors O'Reilly Auto Parts had in stock for the entire Denver metro area (they wouldn't be ordering more). When the ignition cylinder seized up, my local Mazda dealership tracked down and purchased the last replacement Mazda USA had in stock. When I replaced the front strut mounts, the closest replacement mounts were in Canada. The 323 GTX community understands the parts plight and makes sure to offer up pieces of their parts hoards for purchase. You should be able to get what you need, but it might take you longer to find it and you may be buying it from a person rather than a storefront. You meet the nicest people on a Mazda forum!

AWD Turbo NA Miata Hatchback
So what is the 323 GTX like to actually drive? The transmission is geared very close for quick acceleration, but the slow shifts and long throws spoil the 0-60 time. Once cruising, the small turbo spools when rolling into the throttle from 2500 rpm. The small turbo allows you to quickly tap into the boost to pull the car out of twisty canyon curves. The motor turns around 3400 rpm at 70 mph, so any significant pressure on the accelerator initiates that old-school unrefined turbo kick in the pants as highway lane markers blur together. Your eye catches the digital boost gauge gleefully come to life, and by the time you look up, that car you were overtaking is 10 car lengths behind you and you're doing 90 mph.
I have chucked this car into turns on wet pavement that I fully expected to slide on only for the 323 GTX to grip through the whole turn. A beefy 22mm front sway bar fights understeer on dry tarmac. On snow, slides are easily controlled with throttle steer.

The most succinct way I can describe how the 323 GTX drives is to say that it feels like you're driving an early NA Miata (handles great, easily thrown around) that someone has turbocharged and magically developed an AWD system. And you can easily fit a spare set of wheels in the back.
The Mazdaspeed Precursor
When the 323 GTX was released in 1988, Mazdaspeed was still just the name of Mazda's factory race team. Mazda took full control of the Mazdaspeed organization in 1999 and began to leverage the Mazdaspeed brand in its consumer efforts by offering expanded Mazdaspeed parts catalogs for a wide range of its production cars. From offerings you'd expect, like coilover kits and 2-way mechanical LSDs for multiple generations of RX-7s and MX-5s, to the impressively well supported MX-3 and MX-6 sports sedans. There were also absurd options like 4-way adjustable shocks and lowering springs for the MPV minivan and Carol key car.
It would take four more years for Mazda to release its first Mazdaspeed factory-engineered car with the FWD Mazdaspeed Protegé in 2003. The RWD Mazdaspeed Miata was released just a year later. The AWD 2006 Mazdaspeed 6 holds the title of the most powerful piston-engined production car Mazda has ever built with 274 hp. Mazda chopped off the rear of the MS6's drivetrain to create the Mazdaspeed 3 in 2007, updating it with a second generation in 2010.
Mazda hasn't produced any Mazdaspeed production vehicles since the Mazdaspeed 3 was killed off in 2013. Last year, Mazda's North American Operations CEO said that Mazdaspeed production vehicles were not likely to return anytime soon, citing the company's focus on positioning itself as a mature brand.
But meanwhile, a modern Mazda3 is without a doubt one of the best cars in its class with a fantastic look to it. The only knock people have against it is a lack of power. Wouldn't it be lovely if Mazda debuted a new Mazda3 GTX trim with an adapted engine and drivetrain from the AWD CX-5? They could omit the Mazdaspeed moniker to preserve their mature image and market the car to those who live in areas with inclement weather, taking a bite out of Subaru's marketshare. And if Mazda just so happened to also include a Mazdaspeed options list for the Mazda3 GTX? Well, I'd have mine with a steel skidplate and dual spoilers, please.
Twitter & Instagram: @MarquetteLa
Wheelwell Garage