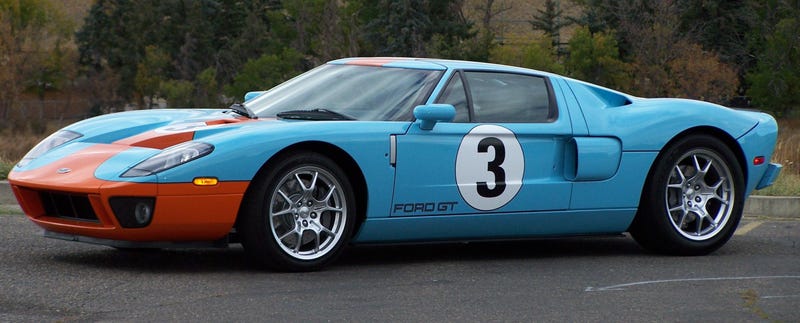 "Owning eight rare classic Shelby collectibles certainly reflects good fortune. But things got even better for Musselwhite when he recently discovered what is arguably Canada's ultimate barn find — 40 current and future collectible vehicles stored in a Quonset hut at a Lethbridge dairy farm."
Musselwhite and friend Darren Boychuk jumped at the opportunity to spend $1.1 million for all 40 vehicles. Boychuk's E & S Motorcycles dealership in Fort Saskatchewan now looks like an exotic car sales lot with rows of fresh Corvettes, other exotics and pickup trucks parked there.
But Boychuk's shop at home holds the real crown jewels from the barn find — four Plymouth Prowlers and three Ford GTs. One of the rare lightweight, rear-engine 2006 Ford GTs is one of only 400 Heritage Edition models offered for sale. It shows only 10.8 miles on the odometer. It had been trucked to the dairy farm and never driven. All three Ford GT sports cars were sold through a Montreal dealership and have Canadian specifications.
Musselwhite and business partner Darren Boychuk are selling most of the 40 barn find vehicles. "They are flying out of here," Musselwhite says at the E & S Motorcycles dealership where many are stored.
Here are all 40 cars included in Lawayne Musselwhite's ultimate barn find:
Ford
1979 Mustang GT Pace Car, grey
1990 Mustang GT Convertible, green on white
1990 Thunderbird, black on grey
1990 Thunderbird S, black on blue
1994 Thunderbird S Coupe, white
1996 Lincoln Mark 8, silver
1997 F-150 Flairside
1998 Thunderbird Turbo Coupe, silver
1998 Lincoln Mark 8 LSC, black
2000 F-150, Harley-Davidson, black
2000 Lincoln LS, white
2001 Mustang GT Bullitt, black
2005 Mustang, yellow2006 Ford GT, red
2006 Ford GT, blue
2006 Ford GT Heritage Edition
2007 Shelby GT500 Convertible, red
2008 Ford F-150, Harley-Davidson, black
2008 Ford F-150, Harley-Davidson, black
2008 Ford F-350, Harley-Davidson, black
2010 Ford F-150, Harley-Davidson, purple
2010 Ford Raptor, orange
2012 Mustang GT/CS, yellow
Chrysler
1999 Plymouth Prowler, purple
2000 Plymouth Prowler, yellow
2001 Plymouth Prowler, black on silver
2001 Plymouth Prowler, blue
2006 Chrysler 300 SRT-8, silver
2008 Dodge Charger SRT-8, orange
2010 Dodge Ram 1500
GM
2001 Chevrolet Corvette, silver
2002 Chevrolet Corvette Targa, silver
2002 Camaro Z/28 SS, red
2003 Chevrolet Corvette Z06, black
2006 Chevrolet Corvette Convertible, silver on black
2007 Chevrolet Corvette Convertible, silver on black
2007 Chevrolet Corvette Convertible, orange on tan
2008 Pontiac Solstice Convertible, red