I have a last known address for my Firebird. HOLY SHIT.
It was last registered in 2004, and per Google Street View, there is a car in the backyard under a car cover. Holy shit. Might make a pit stop.... nevermind that it's in the hood and there are Beware of Dog signs all over the fence near the backyard.
In case anyone doesn't know, my first car was a '77 Esprit, pictured above. I traded it in to a dealership in 1998 after I had damaged it when hitting a large couch shaped object on the freeway, and the #8 cylinder was fouling plugs, and I was just DONE with it.
This is the last known photo of it: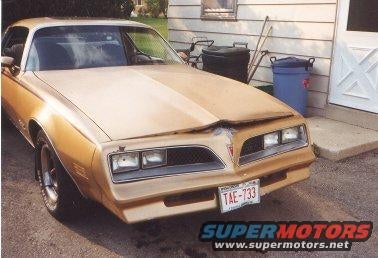 I recently found the accident report from that couch encounter, and FINALLY have the VIN. Something I haven't been able to dig up all these years, and there it was, literally right under my nose the whole time. A simple paid DMV search sparked my need to find it after it was reported registered back in 2003, and I thought to myself, "self, our sales staff has DMV access, maybe THEY can get me current owner info if I call in a favor."
So here we are. I might do some recon to see if it's at that address still, but the car-under-a-cover-via-StreetView is promising.