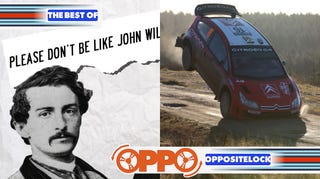 Assembled here are the best Oppositelock posts from Friday through Sunday. It includes Lincoln's impending doom, the cost of negligence, Toyota's Motorsport Museum and stories of terrible road trips.
Put Away Your Derringer Mr. Mulally, You're Not John Wilkes Booth - Blake Noble
Almost 149 years have passed since John Wilkes Booth assassinated President Abraham Lincoln. Today, a different but related Lincoln faces a similar fate. Read more…
---
The Negligence of Cost (The GM Recall and You) - King Ginger
As GM receives the scathing light of governmental review and watches it's barely cleaned (depending on whom you ask) image muddied again in the court of public opinion, several recurring themes arise: lack of communication; poor judgment; sub-par quality control; unwieldy corporate structure; potentially illegal suppression of pertinent information. Read more…
---
Inside Toyota Motorsport's Museum - Two Decades Of Le Mans - AJTaylor
Toyota haa a long history of creating stonkingly fast Le Mans challengers. This year is no exception with the 1000 horsepower TS040 Hybrid having been introduced last month. To whet our appetites for the 2014 race, Toyota Motorsport GmbH have thrown open the doors to their museum to show us the TS010, TS020 & TS030. Read more…
---
Worst Road Trip Stories - teisco15
Growing up in a small town in Indiana as I did, to go anywhere of any interest meant either a. paying to fly to where ever or b. spending an extended period of time in an automobile. Option b. was clearly the most practical and most often picked of the two. Road trips get boring. Especially when you are young, however our brains have a way of blocking out such monotonous, meaningless events from our memories. Because of this, when my mom asked if I wanted to go down to Florida when I was 10, I of course said yes! 24 hours in a car? Oh boy!! Read more…
---
Y U NO MOTORCYCLE???? - TheCoolKid
I just rode this loop. I was flying down windy roads where, quite frankly, I'm not quite sure my Z would even fit.... especially if another car passed by. I had the acceleration, at least within the speeds I was riding, of a supercar at my command. I was in a real rhythm. I can't remember the last time I felt so connected to a machine. So I got to thinking. Why aren't Jalops more moto enthused? I came up with a few reasons why we should be. Read more…
---
Below Average Cars: Lotus Elise - Merkin Muffley
Welcome to Below Average Cars, the first in an occasional series about kickass cars you can buy for less than the average price of a new car. This time we have a no holds barred, uncompromising driver's machine, the 2005 Lotus Elise. A fella in my town has one, and unless he finds himself at a stoplight or sign, he never uses his brakes. Ever. He just gets up to speed, and takes corners at that speed. I have never seen anyone have more fun at 25 mph. Seeing him going 35 looks like the 55 of mere mortals. Read more…
---
The 4-Wheel Drive Bugatti - 1932 Type 53 - Goggles Pizzano
"It has been said that after a race at Monza, Bugatti purchased a front wheel drive Miller from the American pilot Duray, giving in exchange one of his Type 35B; the aim was to disassemble the mechanics of the American racing car in order to discover its secrets. This would have triggered the idea of creating a four wheel drive automobile." Read more…
---
There's A New Bugatti Special Editi... YAWN - Kookanoodles
Well, they've done it. Bugatti has finally managed to make a special edition I really don't care about. I'm a huge Bugatti fan. I think the pre-war cars are as close to art as automobiles will ever come, and even though the most prestigious of French manufacturers is now German, I'm thankful that it still exists and I think Volkswagen have been doing a terrific job with the brand. They've written a new page in its history worthy of Ettore's legacy. Read more…
---
LeMons 24: I'm Going Endurance Racing In This $500 Audi - puppyknuckles
As many of you know, there are a lot of things you can say on the internet that will perhaps earn you a phone call from Mom. Like "Help, I broke my legs," or "Showed up late to work this morning, still wasted #totalrager #worthit" or, "I just killed a man for fun! #rager #adorbsballs" and so on. Well, this might be one of those things: Mom, I've joined a 24 Hours of LeMons team called the Brooklyn Bomb Squad and this is our race car. Hello? No, I'm not kidding. It's super safe. It's an Audi, Mom. Yes of course it runs. Well, it will run, once we fix the new turbo engine, install the driveshaft, connect the shift linkage, and do 248 other important things before my first race on May 10th. Don't worry. I'll be fine! Read more…
---
A How-To on getting me to never return to your dealership - Battery Tender Unnecessary
It takes hard effort to convince me never to do business with you, but one dealership went through the trouble this weekend. Read more…
---
2014 Fiat 500 (Euro) 1.2 Cabrio: Oppo Review - Mathias Rios
I'm currently in Germany with some friends for spraaannggg break. Our plan was originally to rent a car for the latter half of the trip for the Nürburgring and other car-related things, but the lack of a car was beginning to frustrate me, as some of my best memories from my last trip to this wonderful country were within the confines of one of these metal pods we call "cars". So I rented this one from AVIS rent-a-car in Berlin. Since I am "only" 18 they would only let me rent from the "economy" class. They then proceeded to hand me the keys to this brand new 1.2 Cabrio which had 9km on it when I was given it. Read more…
---
My experiences with a 7th gen civic: A Canadian Review - WilliamGTI
The 7th generation civic is not what I would call the zenith of Honda's engineering skills. Popularized by proletariat masses of women and "euro" tail lights, it lacks the adoration of the richer jetta-driving sorority dwellers and the power of the more illustrious SI models of both past and present. It's not the best civic made, but I figured it would be better than I thought. Read more…
The Best of the Rest
Audi For Life attended C&C Portland. WhiskeyGolf shared photos from his trip to Airventure 2010. Automatch Tom visited the Simone Museum to take in the Best of Italy. Davesaddiction checked out Tulsa Caffeine & Gasoline. JGrabowMSt went to C&C NJ. TheDutchTexan stopped by C&C Dallas. Witchdoctor11 stopped in at a McLaren dealer as saw a P1. 365Daytonafan parked his Daytona next to a GT3RS 4.0. Pabuuu shared his carspotting exploits. Mark Linde took another night stroll through the dark streets of Germany. Nafsucof his Focus ST. Sm70 spotted a Turbo S. Untitledcarshow bought a car. INDYDFX got his ST24 back in order. TwinCharged found some cars hidden in a shed. YSI went to an autocross. Tetsu_no_usagi took a wander around a junk yard. DancesWithRotors put new wheels on his Fiat. Louros posted more photos of his Miata. Chiefstinky did a 360 at a track day. Stephen the Canuck bought a Cruze. MR2_FTW autocrossed his MR2. TheJWT documented some of the cars DOTS in Brooklyn and Manhattan. Crazedclay seafoamed his R33. Agrajag tackled some rust. Cebu saw two classic Malibus. Twinturbobmw's neighbour picked up a C7. Motorsport Jedi walked around a bunch of cars at Hunt Valley Horsepower. E30Joe tinted his Forester.
---
As always, If I've missed something and you would like me to include it, let me know.
Discussions
There were several posts that asked questions and sparked some good conversation between Friday and Sunday. Take a peek and chime in on some of those listed below:
Just the #tips
These posts have already been shared with Jalopnik directly but deserve to be mentioned again because they were first posted on Oppositelock:
Want to participate on Oppositelock? Check out the handbook for posting on OppositeLock as well the Oppo tools to help you get started.