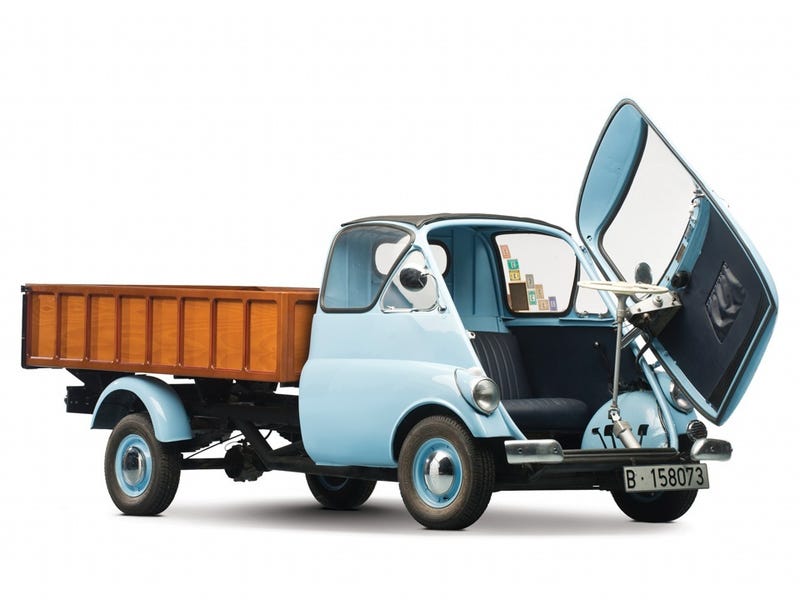 Torchinsky's post over on Jalopnik got me thinking about all the amazing micro-trucks of the post-WWII era. Up top is the Isocarro made in Italy (and under license in Spain) by Iso, the original builders of the Isetta. It used the same 236cc Iso motor that powered the little microcar and sat upon a relatively heavy-duty tubular frame giving it a cargo capacity of 500kg. The box in back measured 79" X 55" and it was a pretty practical little thing that could go from the country to the city.
There were even a few built with this cool van-like box.
BMW never made their own Isetta truck, but in England where Isettas were license-built, they did make a few of these Isetta pickups for carrying what must have been very small things around RAF bases.
Goggomobil also made a pickup based on their van. It's totally awesome and one of the funnest days of my life was spent sitting in the bed of one while being driven around the German countryside by Uwe Stauffenberg, the world's foremost Goggo expert.
Here's Uwe and someone who is unfortunately not me zipping down Route 66 in it a few years ago when a group of nutty German microcar enthusiasts brought their cars over to terrorize America.
In Spain they made their own Goggomobil pickups, but they did it by hacking off the back of the little sedans instead of the vans. They were also built under license, but I guess they didn't splurge for the rights to the commercial Goggos, so they just did this.
There was a van version of it which is actually much more common and goofy-looking.
Another incredible Spanish teeny truck was the Biscuter Furgoneta.
Biscuters were Spain's microcar of choice and were originally designed and built by Voisin. Before long they started attaching these wooden van bodies to make a delivery vehicle that looks like it was cobbled together by the Beverly Hillbillies.
In France you had things like the New Map Solyto. New Map was a longtime motorcycle and scooter maker and was the first company to release a microcar after the war, the Baby Rolux.
Yes, that's a real car. They sold well mostly because they were the only thing available, but sales tailed off once you could buy a 2CV or Renault 4CV.
The Solyto, though, was much more successful staying in production until the 70's believe it or not.
It was funny-looking for sure and only had a 125cc motor powering the front wheel, but it was incredibly versatile and durable and perfect for delivering flowers and produce as well as kidnapping toddlers. Fun fact: there was no starter motor, it was pull-start like a lawnmower.
Another Gallic offering was this Mochet Camionette. Mochet was originally famous for recumbent bicycles and cars that had no engines.
Japan, of course, has probably has the richest history of minute trucks. In addition to the Guppy, Cony made the 360 truck.
And the Cony Wide which even made its way to the U.S. in small numbers.
Another tiny truck which tested American waters was the Daihatsu Midget, the granddaddy of Japanese kei trucks.
It was sold here as the Trimobile and I actually owned one once that was originally used to zip around the Lockheed plant here in Southern California. I've also seen them in Civil Defense livery.
The Midget/Trimobile was one of many 3-wheeled kei pickups. Mazda's very first vehicle was the K360.
The first kei cars all had 356cc engines and Mazda's was an incredible little v-twin.
My favorite tri-wheeled kei was the Hopestar.
Hopestar, along with building the first Samurai (the little Jeep, not the warrior), also made maybe the cutest of all the kei trucks, the Unicar.
It might be the most huggable vehicle I've ever seen.
Of course Subaru had its Sambar.
New Sambars are still being made making it the longest surviving kei model I think.
That's just a small sample of the kinds of vehicles people used to move stuff around in the war torn parts of the world more than half a century ago. Each of these Japanese companies had a wide array of available kei trucks and vans. And, of course, there were also a lot of scooter-based haulers like the Vespa Ape and Lambretta whatever they called theirs. But, these I talk about here were built like real trucks, just scaled down and were a vital part of their respective country's rebuilding effort in the years after the war.