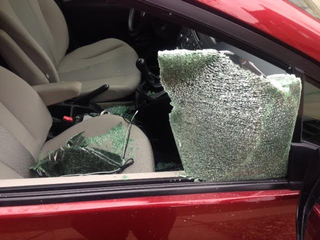 This is what I found when I stepped out of the house this morning. Smash and grab, with the only thing of value missing being a 4 year old Garmin GPS. Par for the course for living in the city and having to park on the street, I suppose. I've gotten accustomed to the regular sound of gunfire and can tune it out, but attacks like this cost me money - money I don't have. I wonder what they got for the GPS - two, maybe three vials of crack?
Any suggestions on where to get a replacement window on the cheap? I have yet to see one of these 2012+ Mazda5s in my local junkyards, so I guess I'll have to go retail. If Mazda wants $36 for the little plastic disc that covers the tow hook socket on the front bumper, I suppose that the cost of a window will be enough to total out the car. The first snowfall of the season is supposed to hit tomorrow, so now I have to cover up the opening with some plastic and drive around looking like trash.
I think I'll go to sleep now...