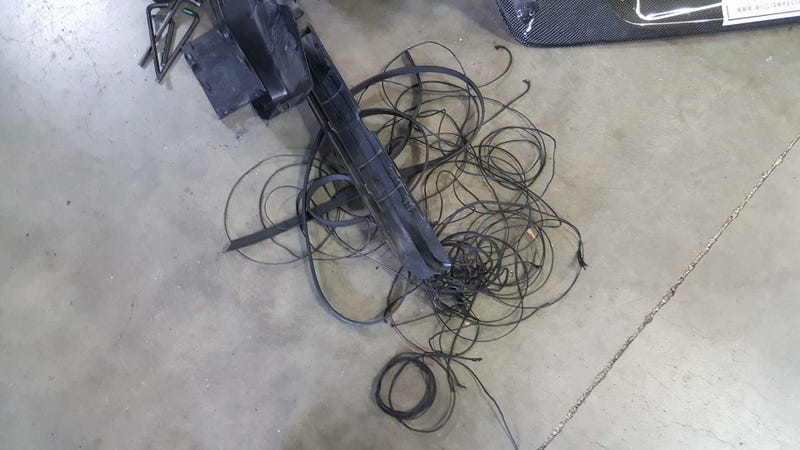 Serpentine belt from the SL, for your carnage viewing pleasure.
Got a new job back in April. Feels like out of the frying pan and into the fire. One bad situation to the next. Opened the job search up and am waiting for several return calls.
Because of my boss's stupid "deal" making, Im currently in a corporate office for a nationwide chain for a total of 7 business days. Im only here because a coworker is in vacation. My boss didnt tell me directly where I was going, who to report to or anything else. I get to the place on Tuesday, and theyre pissed that Im only here for about a week, which is their training period. The helpdesk manager seemed pretty peeved about that. I was reassigned to basically cold call stores to have them restart hardware in the stores to slim down a daily report, due to a software bug.
Im the most qualified employee, and now the least motivated to stick around for the measely sum of money Im making. Im struggling to continue to be motivated, and Im sure my boss is doing this in an effort to attempt to break me of my habits (calling out coworkers for pathetically low quality of work), but after 5 months, this place was just a stepping stone for me. Long hours, some good experiences, and some bad ones. I cant wait to drop all 4 of my access cards on my bosses desk and walk out the door for the last time.
If I can, Ill be leaving the IT industry permanently, but there are a couple of companies that Im willing to give a chance, for the right offer. Im trying very hard to keep myself from letting my mental health and professional career look like the belt out of my SL. Its becoming a very bad situation.
My girlfriend just got a new job, shes doing very well and enjoys her new digs. It was a very good change for her. It gives her some very important opportunities that are absolutely imperative for the future. Now I guess its my turn to finally find the right fit for me. Im hoping a couple of leads work out, because I will not put up with this any longer than necessary.
/rant