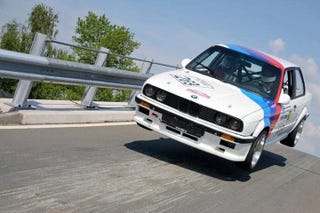 Here's an jumping E30 for your troubles. Anyways...
My family just got a new HP Pavilion 22fi monitor. The thing I like most about is the HDMI feature, so I can play my PS3 while switching to computer mode. At first, the picture showed everything: XMB, GT6, etc., but a few days later,the screen doesn't project anything, all it shows is the monitor status flickering. Resetting the PS3 wasn't the solution.
Then, I tested it on a Sharp 3D TV, and it worked perfectly, no problems whatsoever. Plug it back to the HP, still no picture. I tested it on another HDMI cable, but nothing showed up. I immediately thought the HDMI plug of the monitor was broken. However, came yesterday, I decided to move my PS3 to my room with a Sony HD TV. Initially, it was running as usual...
...until when I was using GT6 photomode. I captured a photo, and the screen turned black and stayed that way, the same effect on the HP monitor. I tried resetting and switching cables, but the damn thing won't project!
Now, how can I fix this?