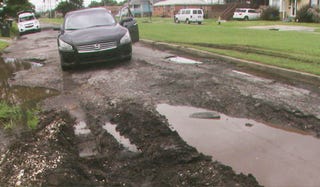 If you live in NOLA and see asshat destroying his black '12 Maxima with an Oppo sticker on your third world-style streets HOLLA ATCHYA BOY! That's right, for 4 days only Money Hustard is going to be in your town. Hitting up Peche, Revolution, Comander's Palace, Jacques Imo's, I CAN'T WAIT!
To make things even better I'm driving the 9 hours from Winter Haven, FL to NOLA, because flying sucks dick when you're 6'7", even if you go first class.
I went to LSU in Baton Rouge and met my wife when she was going to Tulane in New Orleans. The city is nothing but one fantastic memory for me, so long as I forget about that bitch Katrina.
New Orleans streets are just more fun!