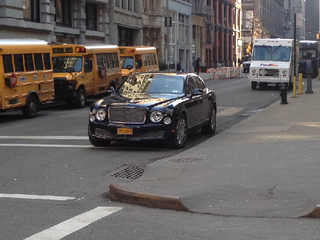 The Bentley Mulsanne is downright ugly in certain colors, with its goofy chrome grin. That being said, in this shade of navy blue that's so deep you feel like you'll fall into it, it becomes an object of elegant desire.
From the natural and free-flowing sweep of the roofline to the enormous but unchromed wheels, the whole car exudes presence.  And the best part about this particular example?
The Barack Obama sticker on the back.  I do believe that man has been called a capital-C Communist.