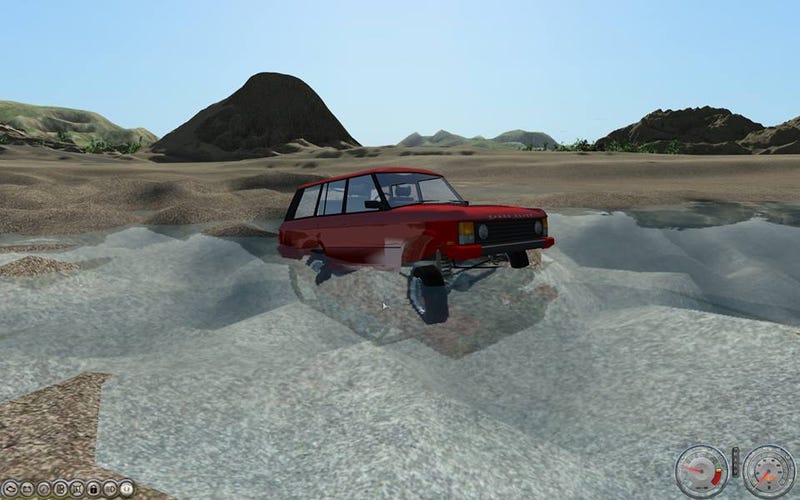 So, I found this quite excellent Range Rover for Rigs of Rods, and I was messing around with it a bit. It's quite capable...
but it still has its limits.
So, I figured I'd just give it a piggy-back ride through some of the rougher sections.
I guess the ties weren't quite long enough at their shortest, so now it's got a bit of ass sag. Oh well.
Regardless, the Sisu SA-150 was happy to step up to the task.
And now we begin...
Of course, I've hit mud already. Not too difficult, though.
Of course, I was a bit too enthusiastic in escaping the mud, and might have not noticed the steep drop-off on the other side.
Oh well. Hopefully no one will notice.
I've fallen into another pit, and the Range Rover is starting to become quite unhappy.
I eventually made it out, though the Rover's rear axle has given up entirely.
Steer away from the cliff, and I'll roll over. Steer to avoid rolling over, and I'll drive off the cliff. This was a tricky one. (Keep in mind I have a very high CG because of that Rover in the back.)
NOT AGAIN!
Thankfully, a friendly driver in a Ural 6x6 happens by* and I can winch off of his rear bumper to get out.
(*not actually another person. I just put that there to get out)
Getting there...
Um...
Well, shit.
This calls for some air support.
Rotors up to speed, time to head towards the crash site. I'll have to be careful around those moun...
OH GOD DAMMIT.
Clearly this mountain is cursed. This will require something...fictional.
This shot makes it look rather large
But it's actually way bigger.
Articulating body means that it's pretty much unstoppable.
Flexible in all the right places.
Almost there...
Okay, so maybe it is weak against narrow paths. I'll have to use the winch on the Sisu
It would seem winch ropes can and will break at the worst times.
The front left tire has officially given up on being a circle.
The Rover is... wait where the shit did it go? Turns out it got so damaged that the game reset it to avoid crashing. Well, regardless, I need some way to get back now that one of my wheels is moonlighting as a potato.
Oh. That will do, I suppose.
This was very easy*, took no time at all**, and the truck sustained no*** damage as a result.
(*lies, **damn lies, ***statistics)
The dangers of Alpha Builds of physics engines beaten into a video game; objects are only mostly solid. Literally just fell out into this trench.
On the other hand, I was able to actually use the helicopter this time, though the Sisu is somewhat beyond it's load rating, but I'm sure that won't be a problem.
Spoiler alert: It was a problem. Stalled the rotors and had to max the collective pitch to avoid plunging into the sea here. (yes, RoR helicopters function entirely aerodynamically. There are no cheats here. I could alter the profile of the rotors' airfoils to get more lift if I wished, and it's controlled by cyclic pitch of the rotors and collective on the tail.)
MISSION ACCOMPILSHED!
BONUS LEVEL: AIR DROP
HDR ENGAGED
Trying the 6x6 version this time. Managed to damage the Rover before I even got moving this time. Fording some water.
Oh shit, there's more water here than I thought.
Behold, the Antonov 12! (It's not terribly pretty. It was one of the first planes to be put in the game back in ~2004)
Cargo secured, engines on, fla... that's a really short runway. Whose idea was this?
shit shit shit shit shit shit shit
Good thing those trees don't actually collide with anything.
Approaching the drop zone...
Getting close, but running out of ground, so I turn on the autopilot, tell it to hold altitude, and switch back into the Sisu, but forget that the winch cable is locked to the plane. So I miss my drop zone. Oh well, I'll just switch back into the AN-12 and...
YOU HAD ONE JOB, AUTOPILOT.
FISSION MAILED
-fin-