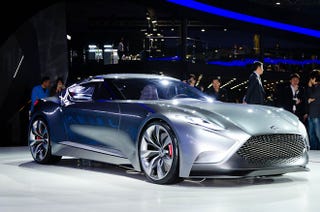 Alright, we got a road map for the Genesis model launches. The personal limo Genesis G90 launched Winter 2015. The oversized executive sedan G80 goes official late Summer or early Fall. Then the G70 compact sedan will be launched this Winter or Spring 2017. Right now though, I'm wondering why is there a 3 year gap before the Genesis (brand) coupe is launched?
The G70 compact sedan is supposed to be launched at the end of 2016 (aka this year), while the sports coupe wont launch until the end of 2019. That would be around the same time as the refresh of the G70 Sedan. So this Genesis (brand) coupe must be pretty different from the Hyundai Genesis Coupe (aka HyGenCo because this is getting confusing). Rather than freaking out and pretending this confirms Genesis is launching an Audi R8 competitor in 2020, I'm going to calm my loins and be reasonable for a change.
Here's what's probably going on, Hyundai is using the HyGenCo as the glue that holds all these brand launches together. Right now, Hyundai is launching a luxury brand in "Genesis" and a performance brand in "N," all while maintaining it's own Hyundai brand vehicles. The 2017/2018 HyGenCo is likely being reworked to be more luxury focused over sport focused (think G37 instead of 370Z). Once the Genesis brand has 3 sedans and 2 CUVs, dealers will likely have invested the money in creating separate areas or dealerships dedicated to the new brand and by 2020 that new sports coupe for Genesis Motors will be the new home of the sports coupe formerly known as HyGenCo. A repeat of the way the Hyundai Genesis Sedan effortlessly morphed into the Genesis G80 through a slight facelift. In the case of the HyGenCo becoming the Genesis Sports Coupe, it will go from being a modernized Infiniti G37 to an Infiniti Q60 level competitor.
"Why doesn't Hyundai just move the Genesis Coupe to the Genesis brand now and save us the confusion?"
Great question! I mentioned the HyGenCo being the connection between Genesis, Hyundai, and "N" Performance. The issue that the Hyundai car brand is moving its most interesting vehicles to a different brand and eventually that brand will NOT share a showroom with their rental ready offerings. You know, those two RWD luxury sedans and the upcoming 3-series attacking sedan mentioned earlier. All of which happen to be the most logical choices for a performance brand to work on. Thus you put in all this work in creating a luxury division and a performance division, then 3 years later your dealer's separate the brands leaving the most interesting models in your Hyundai showrooms to be a 200hp Elantra Sport Sedan and maybe a 240hp Elantra "N" Hatchback.
However, your Genesis showroom has three sedans, two CUVs, and a sports coupe that all are available with engines between 300hp-500hp, electric motors, RWD biased platforms, the best materials and engineering the Hyundai Group can get, upscale service, newly built buildings, and that HTRAC (aka Hyundai Traction) AWD system you designed but is currently only on the G80 and G90 and ZERO Hyundai models. Hell, Hyundai doesn't even offer an AWD sedan or coupe while that's all of Genesis' lineup!
At the same time as this Genesis divorce, our dearest little sister Kia will have a RWD large luxury yacht, a RWD 4-door coupe, a 200hp subcompact hatch, and a large luxury SUV that makes you wonder why Bentley and Infiniti couldn't get it right.
The simple answer to the question of the purpose in Hyundai holding onto a coupe who's name now belongs to another brand is that Hyundai has choosen to screw over its regular car brand immensely. Thus the Hyundai car brand has to hold onto the HyGenCo until it can figure out what needs to be done to keep people considering a Hyundai over a Genesis or Kia. One brand gets all the best stuff the Hyundai Group has to offer, whioe the other brand gets the same stuff but with an extra 6 or 12 months after that stuff is introduced into some $30k Hyundai, which is extra time to make that equipment perform better before selling it to people for less.
"Help me, Genesis Coupe. You are my only hope! (Unless that small pickup works out)." - Hyundai Motors