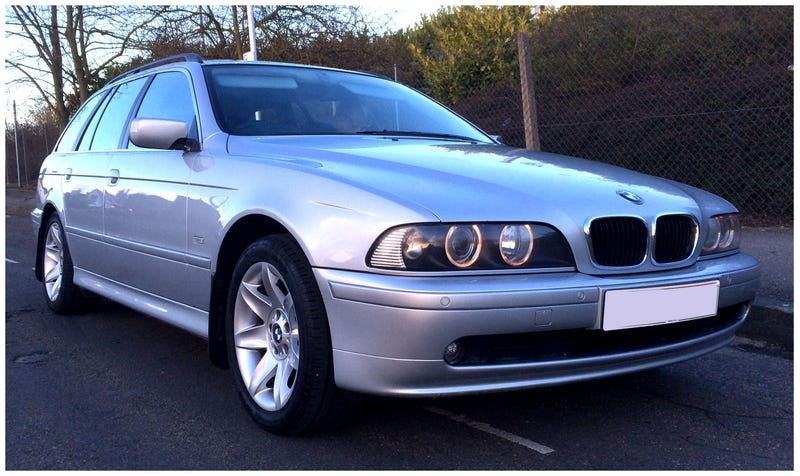 I remember when I was younger, coming back from a trip to Florida with my mother and brother, and seeing my dad. He said to me, "Go look in the garage."
When I opened the door, I looked right into the face of the most beautiful car I had ever seen (it sure felt like it anyways).
While we were on vacation, my father had found an E39 wagon on Craigslist, gone to see it and bought it.
The car itself was a beauty. It was a 2003 525iT with the sport package and only 32k miles. The woman who bought it decided she'd rather have an Audi and just let the car sit for a while, only driving it once a month. Despite that, it was in mint condition. This was around 2005 or 2006, so the E39 was still relatively new.
When he got the car, my mom was pissed that he had gotten it without her, but he didn't care. He finally had one of his dream cars.
He loved that car to death. He babied it and hand washed it and took better care of it than almost anyone. He rarely let anyone even drink in it.
Fast forward to 2009. My father passes away from a heart attack. The car is sold off to a family friend. We shouldn't have sold it to THAT person, but I didn't realize it at the time.
The friend that we old it to had 5 kids (6 now) and it showed. Every time I saw this friend, I watched the car deteriorate further and further. This car, which had been my father's baby, was now filled with stains and covered in scrapes. There were door dings galore. The carpet was stained with unknown liquids. The rear suspension collapsed. Most of the buttons on the interior were trashed.
It pained me every single time I saw the car, but there was nothing I could do.
And finally, that day came. We went over to that friend's house, and he regretfully informed us that the car had been wrecked. He was on the freeway and the car in front of him stopped. He pulled up in time, but the car behind him slammed into his rear and pushed it into the car in front. There was no way to save it. My father's baby was dead.
Now here's where I need your help. I haven't been able to find a picture of his car or one like it anywhere. His car was a 2003 525iT in this beautiful light blue metallic that almost looked silver in the right light. It had the sport package. I need you to help me find 2 things:
1. The paint code for that color. (P.S.: It's not the one on M5s)
2. Pictures of a car just like it, if possible.
My goal in life is to find as close of a car to his as possible and own it. The car above is the closest I've found. It has the right wheels, bumper and it SEEMS to have the right color, but it's only silver reflecting the sky.
So I call on YOU, Jalopnik, to help me find this car.