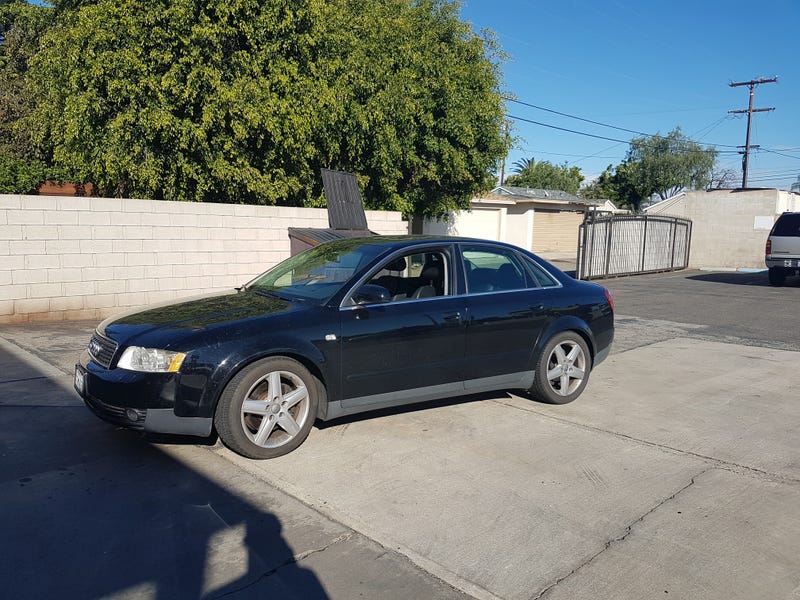 Hi Fellow Opps,
Iv been wanting to get a Manual so i can learn how to drive it and also get a fun car out of it. Long story short I bought myself a 2002 Audi A4 Quattro Manual with 160K miles on it. My goal was to buy it and drive it for 10k miles learn how to drive properly and move on to something better. During the test drive everything was working fine no leaks everything looked good so i bought it for $3500. The guy who had all the paperwork in hand registration pink slip and everything looked legit. paid him cash and signed over the pink slip. went to AAA the next morning to transfer the car and it turns out the registration was not paid for last 3 years and i had to pay for it to register the car for last 3 years and this year (COSTING ME $800). the paperwork he had was all fake/ Including the sticker on the car. At this point the car costed me $4300 already. Was bummed about this already but couldn't do much as the guy was not answering any calls or anything and we cant find him anymore. I drove the car for a month 1k miles on it learned how to drive the car well and everything is good.
The other day i was driving on the freeway and the car overheated. I pull over and see a water leak so i called a tow truck and have the car towed to my house which was near by. I was hoping for a pipe leak or something minor but couldn't find a leak in the pipe but saw a lot of liquid coming from around the radiator housing. I was not able to figure out the problem so next morning had the car towed to a shop near by that i trust. The guy basically said the water pump is gone and it might have messed up the engine too and the job will cost $1,000 for the waterpump and timing belt (timing belt is there so its an easy job) but does not guarantee the engine to be working.
Now i'm basically sitting with a big paperweight that i cant drive and has costed me a shit load of money already. I don't know if the mechanic knows whats going on or what i should do. I'm willing to sell the car as is but i don't see who will buy it as is. Anyone here any any advise on how to sell this to get most money back or FIX IT without costing me a leg and an arm as i already spent way too much on this car. Its a learning experience but the shitty part is i cant drive my manual and enjoy it.