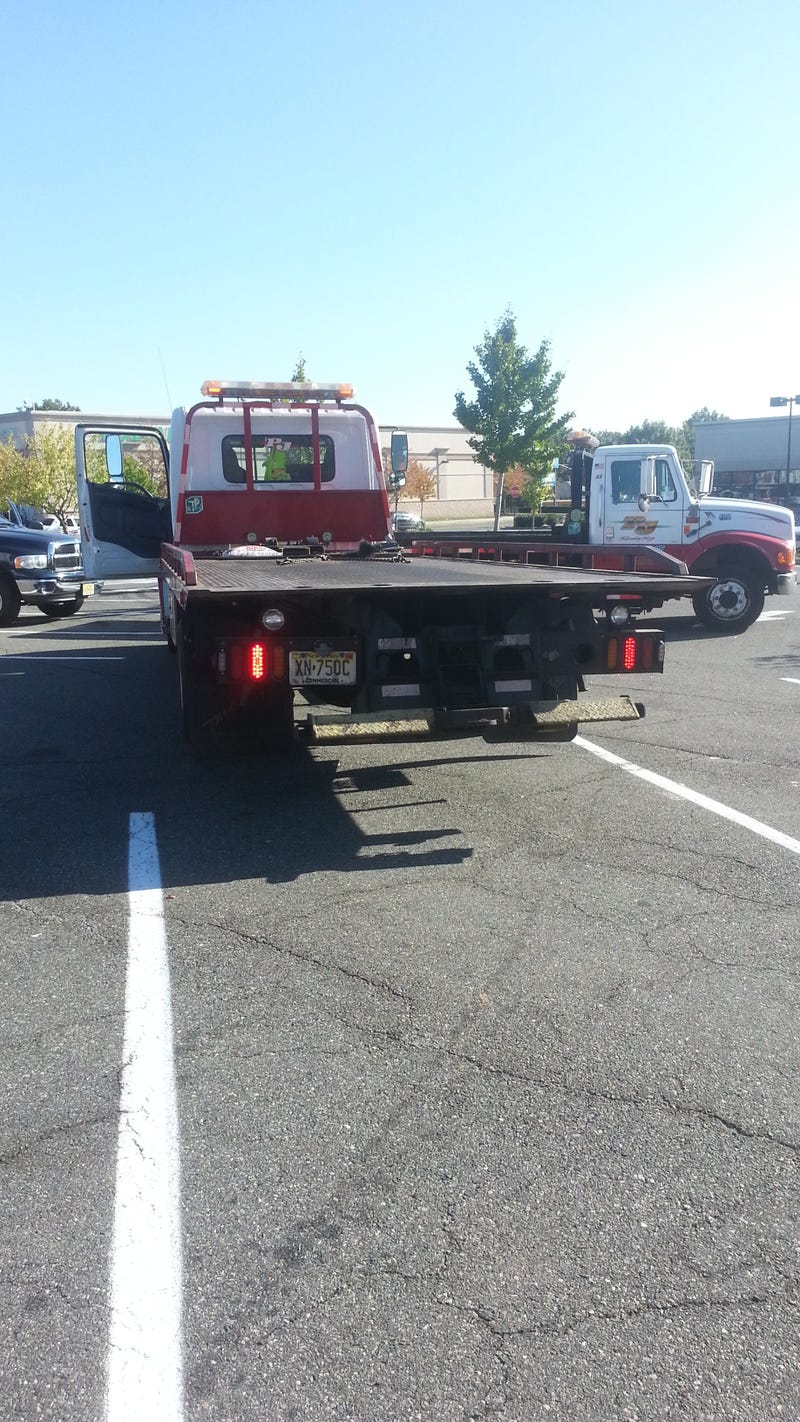 According to my call logs, at 3:09PM on Friday afternoon I called AAA only to be told that they don't go onto the Parkway. Great. Just my luck. The Parkway actually has it's own towing service. The good part is that they honor AAA memberships, and give AAA a bad name. I was on the truck within 10 minutes of calling. That is downright impressive by AAA standards. I feel like I could be broken down in a AAA parking lot and have to wait longer 25-60 minutes for a tow. The bad part is that they only get me off the Parkway. They don't tow me home. Shit. Call AAA again. Something like about a half hour or so after the second call, I'm on a truck home. I didn't argue with the driver, but I had a slight disagreement about the best way to head home. I live there, I think I may be able to get you in and out of the area faster if you consider listening to my suggestions about routes. Oh, it's a difference of 8 miles you're complaining about? You can go 8 miles out of the way, or you can sit in 45 minutes of traffic in a 3 mile stretch. You pick. Just keep in mind I have every intention of getting down to Wildwood before 11PM.
Well, after a phone call, car was on the truck, and we were going the 8 extra miles. About an hour later, we're being dropped off in front of my house. We hit a combined total of maybe 15 minutes of traffic. You're welcome.
So I got into the SL600, and drove down to Wildwood to enjoy my weekend.
But today, after work, I tore into the Magnum. I was tired, it was already dark by the time I got home, and I was not feeling very patient.
I knew the sound was coming from the drivers side, and I suspected a rocker arm or valve spring to be broken. A couple taps of a screw driver, and it finally popped off. I was very concerned at first, because it was not budging at all
For 147,5xx miles, this engine is really clean. A part of me was concerned I was going to pop the cover off to sludge. Amazingly, not the case. That's a good thing. The back of the valve cover could use a good cleaning, but is otherwise very clean as well.
While I was in there, I tore into the passenger side as well, having not yet found my problem.
Well, it wasn't the passenger side valve train either. Shit.
So I start pulling spark plugs. I thought the sound had come from the middle, so I first pulled one plug from cylinder 3. Then from cylinder 5. Both looked fine. Looked down the tube to try and look at the piston heads. What I would consider normal carbon buildup for a 10 year old car, but nothing out of the ordinary.
Then I pulled from cylinder 1.
Fuck. That's about all I have for this. So I pulled the other one to see how bad it was.
Double fuck.
So I try looking down the spark plug tube. Naturally, I dropped my phone into the engine bay in the process. Luckily at least the phone didn't break.
That's not a good sight. The heads have to come off. This is already more work than I wanted to put into this motor. I have to call a local shop, because I don't have time off to work on this car during daylight, much less the tools or time to remove the motor for disassembly.
Problems always come in threes right?
In order for the piston to smack the plugs, the piston would either need to be broken, or the something is going on with the rod. How did this not catastrophically blow up on the Garden State Parkway? I have no idea. I heard the sound start, and car was tapping away for maybe a minute or two minutes tops. When I slowed down, I had to shift into neutral, and rev the motor so I didn't get stuck in the toll plaza. Just barely made it onto the grass right after exit 124.
So, the good news is that it's not a rocker, spring or pushrod.
Goddamn car died right after the toll booth. $1.50 that could be going into this motor is gone.