In the spirit of the recent "Here's all the things...." posts over on the FP. I've decided to do one of my own, on the brand new (to me) 2002 BMW 525i Sport Wagon. Purchased for the grand total sum of $7,000! this family wagon was one of 1,696 sold that year but there are two more little wrinkles to that number; the five-speed manual and the sport package.(!!!!)

So first, a little background, for those of you who can recite E39 stats backwards and forwards yet (blah blah lah, greatest styled car known to ever grace the earth etc. etc. bmWANK). The BMW E39 "touring" body style was produced worldwide between 1996 and 2004. Coming in two flavors for the United States, the big wagon was produced with the M52B28 2.8 liter inline 6 cylinder (190 HP and 210 ft·lbf) for 1999 and 2000 and the M54B25 2.5 liter inline 6 (189 HP and 181 ft·lb) from 2001 to 2004. Why BMW decided to go with the 2.5 liter over the 3 liter M54 is a bit of a question mark, especially since we're talking about the lower volume touring body style. Maybe they were afraid of cannibalizing the 4 liter V8 touring sales, but in my opinion it remains one of the most boneheaded decisions BMW made with the E39. (Although since it's in the same engine family future e46 330i ZHP engine swaps are possible and actually not difficult!)
What makes these big sleds so desirable in the first place. Well, one big reason is that they could come with a 5 speed manual when most standard gearboxes were on their way out. Additionally, with the rear seats folded down, the 5-series wagon had more cargo space than the newly introduced X5. Also, being a 5 series, the car could heat your butt while you row your own gears all while swaddled in the finest leather Bavaria could find. But all that was when it was new. Now, the newest E39 touring that you can find is an astonishing 13 years old and do you know what doesn't typically age well? That's right, a "modern" BMW. After the late 80's, when BMW really started to move up-market, they solidly positioned themselves in the "do not own once out of warranty," bracket.
So is my Bimmer a Basketcase? Well, I decided to do my own cursory check and then take it in for an inspection just to make sure I paid WAY too much money on the used market.
For those of you nerds who like build sheets, here it is.
HOLY CRAP! While I don't mean for this to sound like a #humblebrag, it's going to anyway. This particular car was optioned to the nines but none of that means squat unless it was maintained. Especially since there are over 180,000 miles on the clock.
So let's get started!
The Interior

The interior is in pretty great shape for being 14 years old and having a butt in the front seat for 180,000 miles. But of course, the Little Things are out in force.
Pictured is the main dash vent, which seems to want to vacate it's location every time I hit a small imperfection in the road.
But that sets the tone for the interior which means we may be on track for death by a thousand cuts. Everything looks clean, but underneath, there is where the gremlins hide. The following is an exhaustive list of the "niggles."
Passenger seat doesn't raise up and down evenly, (sometimes referred to as "seat twist" by the faithful)
Drivers window regulator broken or off track, refuses to roll further than 4 inches down.
Drivers door seal torn
Wood trim cracked
OCD Nightmare #1: Wood trim covering CD player replaced with wrong pattern
Seat belts refuse to retract with any real urgency.
Dash pixels dying/dead on left side of cluster
DICE MediaBridge Mic dangling from a hole in the ceiling
OCD Nightmare #2: "Custom" Subwoofer addition by previous owner
Passenger vanity mirror cover broken/light randomly turns on and off.
General scuffs and scrapes

Well that doesn't seem too bad (right guys???), except naturally, the most expensive shop-performed interior repairs are needed in order to make this car interior perfect. But hey, at least the factory cup holders are still there! Let's hope I'm good with trim removal tools!
The Exterior

I won't waste much time on the exterior, because if I'm being honest, I bought it because the exterior is near perfect. Thankfully. But of course there are some issues. Such as the driver side front fender liner extension is broken and a nice rock impact in the dead center of the windshield.
Also, the windshield seal is deteriorating on the drivers side because of course it is and the headlights are foggy because I can't have nice things.

The Engine/Powertrain/Under the Hood

This is where things get dicey/never take your car in to be inspected unless you want to watch all your money disappear in a cloud of preventative/deferred maintenance oil smoke. Did I mention that I bought this car sight unseen AND out of state? HAHAHAHAH yes I did.
The M54 engine in 3 liter guise was on the Ward's 10 Best list for 2002 and I believe it deserved a spot there, the 2.5 liter, maybe not so much. While I've heard it's dead reliable(we'll see), it isn't shockingly fast by any means and in the wagon, about 8 seconds to 60 maaaayyyyyy be generous. Although, I came into this from a Miata so every time I'm on the gas I feel like this: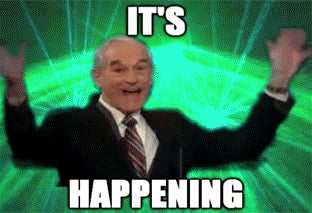 But about that dead reliable part. Did I also mention that when I picked it up I noticed oil on the bottom of the engine? Or that I had to top it off on my 900 mile drive home? Oh, whoops, must have forgot because both of those things happened.

So here is where things get a little hazy when it comes to what to do first, and not just because I'm staring through a cloud of steam from the exploded E39 cooling system.
Per the inspection!
Exhaust bracket broken at transmission bell housing
VANOS oil line leaking
Power Steering Reservoir leaking (which will eventually destroy the alternator if left unchecked)
Crankcase Breather Valve System "either leaking externally or has had oil leaked onto the breather system" - basically "we don't know if it's bad but you might want to check it out, oh also that will be $1000"

Washer fluid pumps working intermittently
Belt tensioner covers missing
Car vibrates slightly at highway speed, possible bent wheel (car has odd rear tire)
The Verdict

Well, at the end of the day it's a 14 year old BMW with 180,000 miles on it. What can you expect right? What I haven't mentioned here is the 130 pages of digitized maintenance history that came with the car, so much of this got a whole lot less daunting. However, looking at a possible $4000 repair bill on your "brand new" car is never fun. But hey, repeat after me, BMW. MANUAL. WAGON.
Now let's see how much 330i ZHP motors are on ebay........
(for your time)