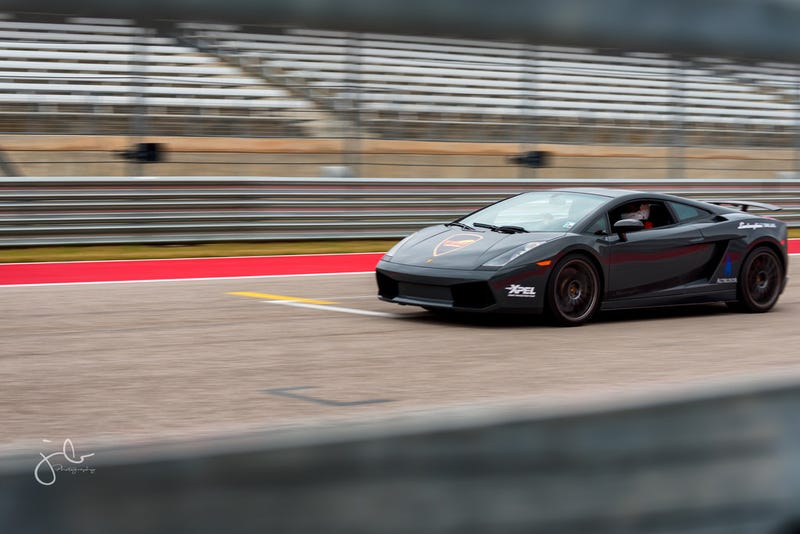 We team up again! Jalopnik fan, photographer extraordinaire, Jason and I have undertaken the utterly challenging work of showing up at a place where exotic supercar owners come together and race so that you can sit at home, drink a hot cup of coffee, and enjoy the beauty of these extravagant, magnificent machines.
This particular event was called the Texas Bull Run. It was a chance for Lamborghini owners and their buddies who own other fancy exotics to show up for an exclusive track day at the Circuit of the Americas.
This was for the owners of these gorgeous automobiles who want to do more with them than just polish their cars once a week and keep them stored in their temperature-controlled garages.
When you have a place like the Circuit of the Americas (COTA) in your backyard, it makes going to parking lot car shows really boring. COTA brings these amazing cars out of the woodwork to make it the best of both worlds: you can still check out parked cars in the garages, but you also get to see them being raced which satisfies all your senses when it comes to entertainment of the automotive variety.
This "Two Fly" Aventador was apparently flown in from Holland and has aircraft exhaust on it. It was so loud.
If you watch the video you'll know what I mean.

The Aventador looks like it could be a Batmobile. The paneling on this car looks like they pop off when Batman needs to eject out of his car to chase after the Penguin.
In fact, there are people out there who actually have turned theirs into one.
There really is no other car out there that looks quite like the edgy Aventador. I would categorize this car as a "love it" or "hate it" kind of car. It is so extreme that you can't just be "ok" with.
Do you love it or hate it?

The Huracan, however, is the car that really caught my attention. This all new Lambo introduced a few months ago, is staggeringly good looking.

Typically if you see a Gallardo, you might stop and stare for a bit. But not here. In the presence of the Huracan, the Gallardo really starts to look dated.
Take a look at these two side by side.
Lamborghini did all the right things with the design of the Huracan. They made the car lower and wider with ultra flared out rear wheel wells and added some curves to the trademark jagged edges resulting in design perfection.
Famed Aerosmith drummer, Joel Kramer, who lives in Austin and owns a Huracan made an appearance at the event. I believe one of these two is his.

The Gallardo may have been overshadowed by the sexier Huracan, but this one stood out. Wheels can change the look of any car, and these wheels are the best ones I've seen yet on a Gallardo.
Aside from all the Lamborghini goodness we witnessed, there were also quite a few Ferraris. I was glad to run into Joe, whose Ferrari I talked about here.

I knew he was going to come out here at some point because he had already done so and thoroughly enjoyed exploring the capabilities of the 458. What better place to do it than at COTA running with the bulls?
Joe had a beaming smile on his face after his track time as he was sharing his experience; he hit 155 mph on the main straightaway!
Here is a guy who knows how to enjoy his prized possession.


The really nice thing about this supercar-focused track day was that each car had an instructor; that certainly makes it easier for the inexperienced amateur racer to have more fun navigating these insanely powerful cars around a fairly complex track.
Which one do you think looks better? The Huracan or the 458? I'm not sure if I could pick one.

SLS AMG GT3
We certainly weren't expecting to run into this beast.
I had the opportunity to drive the SLS AMG not too long ago, thanks to its generous owner, and fell in love with it and so when I saw this, the memories of driving the SLS AMG came flooding back.
This, however, was no ordinary SLS. It was the street-illegal racing version.
The team racing this was here prepping for the upcoming Pirelli Challenge.

There was a metal roll cage inside with all the traditional Mercedes luxuries were stripped out. It was relatively easy to get in, but oh so difficult to get out.
Once I was in, it felt intimidating. You are surrounded by all this metal with very limited visibility. You kind of feel trapped because there is no easy way to get out with the edges of the seat wrapping upwards to hold you in place.
You can take the steering wheel off which makes it slightly easier to extricate yourself out of the cage, but it was still tricky. I struggled to get out as I had to utilize muscles that have been dormant for years.
Here is the regular SLS AMG with the racecar version next to each other.
The cars sounded so fantastic, that if you didn't know better, you would think that there was an actual race going on.
I think I say this every time, but this was the best track day ever!
My expectations have now gone up.
Next time, I'm looking forward to seeing a LaFerrari FXX and a McLaren P1 GTR going at it.
---
Photo Credit: Jason Bollenbacher
Torque Affair is about exploring my fascination with cars; I'm always on the lookout for things that interest me in the car world. Like Torque Affair and follow @torqueaffair!