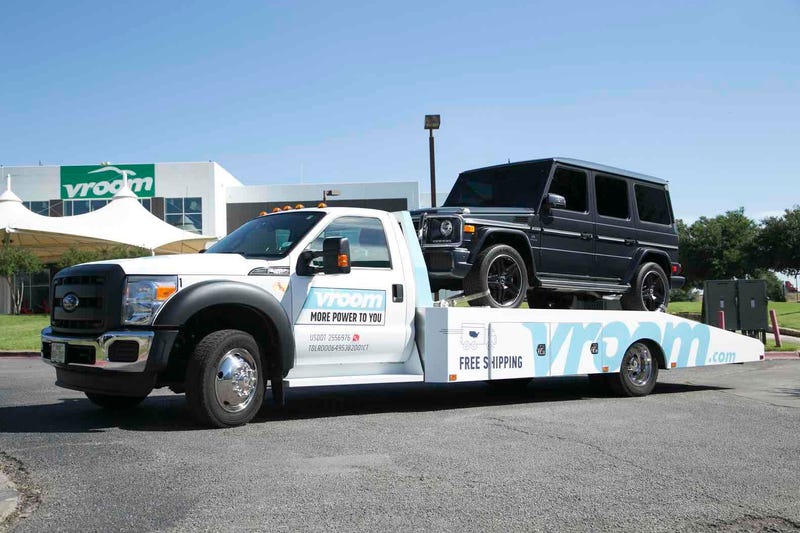 If you happened to come across this, then you'll know that I recently stumbled upon the fact that you can literally just wake up one morning, decide to buy a car, click a few buttons online, and then have your newly purchased car magically show up at your doorstep. Yes, it's just that simple. You don't have to go to a dealer anymore or meet a random person craigslist only to buy a car from them that they actually stole.
So, I woke up one morning, went online and decided to click on a few buttons to buy a car for delivery when I realized: "Nooooo, I just bought my car from Craigslist the other day!" As much as I wanted to take advantage of this new way of buying cars and have one delivered to my home, I just couldn't resist pulling the trigger on this one.
Since a car purchase wasn't going to happen, I did the next best thing - I drove to one of these places that actually delivers cars to your home. Vroom is one such option and has a dealership/showroom in Dallas and since I'm in Austin I thought: why not drive up there and see for myself what this is all about? I'm always looking for excuses to drive my newest Craigslist acquisition and so the trip to Dallas presented the perfect opportunity for me to hop into my new used car and head out. Sweet!
On my drive to Dallas from Austin, I enjoyed the Dinan-upgraded 2009 BMW 335i quite a bit. It had more than enough passing power and is built so sturdily that going at 80 mph was similar to driving at 50 mph in most other cars. Even in 6th gear, I had enough power without having to downshift to get around someone. I was enjoying it so much that when I arrived at Dallas, I was mildly disappointed because I was not ready to stop driving.
After burning many gallons of gas, and pondering the question, "What am I doing on this planet?" during my drive, I finally found myself being greeted by a gigantic green sign that said "VROOM".
Driving into Vroom felt like entering a theme park. There were all these signs hanging high up in the air enticing you buy a car through Vroom's "hassle-free", "haggle-free" experience. The signs also pointed you to keep driving down a windy road ultimately leading you to a heaven of sorts: a showroom with plenty of eye candy.
They really did a nice job of making the place look attractive unlike most dealers where the first thing you see are at least two or three people who come rushing out to you asking "Have you been helped?" At this point, all you want to do is just scream in frustration and regret your decision of ever coming to the dealer in the first place.
"Why can't we just look at the cars and not be bothered??"
Here is a business idea: T-shirts that can display messages you send through a simple text from your phone. For car dealers, I would be displaying this message: "Leave me alone!"
Luckily at Vroom, I strolled in without anyone violating my personal space. Instead of being greeted by people, I found myself being welcomed by a sea of drool-worthy automobiles.
Although you can buy cars online from Vroom and have them delivered, you can also just casually stroll into the Dallas Vroom dealership and buy a car just like you would at Carmax.
Behind this fancy, visually appealing showroom floor, lie Vroom's real operations and I was fortunate enough to get a sneak peak to see what really happens to all the cars that Vroom acquires to sell.
Most dealers and online retailers like Carvana are generally buying and selling cars with some amount of reconditioning, but Vroom takes the refurbishing process to a whole new level.
First, there's a thorough inspection and check-up of any vehicle that Vroom buys. They have a whole team of ASE certified technicians who are essentially repairing everything that's wrong with cars including the tiniest thing like a burnt-out radio button bulb. Now, just to be clear, they don't really retain crappy cars to begin with - some of the stuff they acquire, they get rid of right away if it's not deemed to be "Vroom-worthy".
Generally speaking, the cars that they end up selling have low mileage and are already in good condition. But what they do is turn a car that is in "good" condition into "excellent" condition which is not at all a trivial matter.
After repairing any electrical or mechanical defects that may exist on the cars, the cars go into an area where the Vroom techs spend a ton of time fixing any imperfections on the exterior and interior including repainting parts if necessary. It is so elaborate that I started wondering how they got all this set up in the first place!
Their quality check process is very thorough. I saw a guy with a magnifying glass checking out the entire car. Ok, that's a joke, but he was doing something close to it - he had a paintbrush filling in a hairline scratch on one of the panels! I couldn't believe this kind of attention to detail was being paid to a used car that was about to go on sale.
After everything about the car is as good as it can be, there's a room where the cars enter to pose for a photo-shoot.
Let me tell you that the cars are indeed as good as they look in any of the pictures you'll find on Vroom's site. The staff works tirelessly to make these cars look amazing and it is not easy to make a used car look almost new, but the final result makes it all worth it and here's why.
Let's say you cashed out all your savings to buy the car of your dreams on Vroom or Beepi and then have it delivered to your house. Knowing that you emptied your bank account to make this happen, I'm sure that your satisfaction would be much higher if you run out to your driveway and lay your eyes on a car that essentially looks and feels like a brand new car. Your inner voice would be telling you; "wow, you just got a brand new car - what the hell were you thinking?!"
This wouldn't be the case if you ran outside to check out your newly purchased vehicle only to see all the dings and imperfections that you already knew existed.
As great as the transparency provided by Beepi (image above) might be, it wouldn't be the same as if you received a car that is in "like new" condition instead of something that is visibly used with dents and scratches. A beat up car would definitely make you regret wasting your money on a car.

You can tell that these guys know what they're doing. The founders of Vroom have a long background in running dealerships and this online business model is a logical extension of that. It's about time that you can buy cars online without having to deal with salespeople or even having to get up off of your couch. It's just like buying paper towels on Amazon but even better because you don't even need to wear the "text-message displaying" t-shirt!
With so much effort being put into making sure the car is as good as it can be with an optional added "Booster" warranty, buying cars from a place like Vroom makes it a no-brainer. I really wish I could've found something on Vroom before I made my purchase because I would've really liked to experience the whole online car-buying process.
As I was walking around their facility, I was thinking of how I would love to just drive all these cars. There were so many that I would have loved to get my hands on.
I also realized that the way we buy cars now will be obsolete not too long from now - just like what is currently happening with taxicabs, Best Buy, newspapers, CDs and meeting people in person! Why meet up with anyone when you can bother them through Facebook or Snapchat, Whatsapp or Groupme or blah, blah, blah and blah.
Why go check out a car in person when you can get one delivered to you with a 7-day return policy?
After seeing the Vroom process in person, I'm so excited to try this out, that the search for my next car is beginning....starting now! After seeing how Vroom pampers their inventory and works hard to bring them to near-perfect condition, I can't wait to trade in the 335 on Vroom and get my hands on a Vroom car.
Can it really all be done at home while I'm in my boxers eating Mac & Cheese? I sure hope so.

---
Torque Affair is about exploring my fascination with cars; I'm always on the lookout for things that interest me in the car world. Like Torque Affair and follow @torqueaffair!