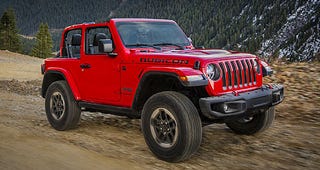 The average Australian weekly pay packet is a smidge under $1,600 at the moment.
The starting price for a JL Wrangler (2 door Sport S `which includes 17-inch alloy wheels, automatic headlights with daytime running lights (DRLs), push-button start, leather-wrapped steering wheel, 7.0-inch Uconnect touchscreen display with Apple CarPlay and Android Auto, eight-speaker audio system, black soft-top, Selec-Trac traction control system, rear parking sensors and a reversing camera` [words stolen from Goauto.com.au]) is $48,950 plus on road costs...so add another 3 to 5 grand. This is with the Pentastar V6 and 8 speed automatic.
The top model is the 4 door Rubicon with the 2.2 litre TDi engine, again only with an 8 speed automatic...$68,950 plus on roads.
Fifty to seventy grand...
Average price increase over the JK is about $8,500.
Fifty grand buys an awful lot of Ford Ranger or Toyota Hilux. Seventy grand sees you into Toyota Prado or even squeaks you into 75 Series LandCruiser
I'm going out on a limb here to say that Jeep aren't planning on selling too many JLs into Oz. As for the Gladiator...ah no.
Attention, Jaguar Land Rover...this niche is now yours to properly fuck up.