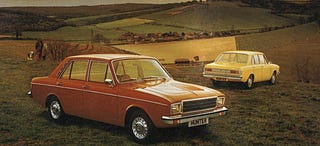 So here's another Irish car for you...the 1976-79 Chrysler Hunter.
Once the Hillman Hunter reached the decade-in-production mark in 1976, Chrysler Europe rebadged it as a Chrysler and moved its production to Santry, Ireland. They built it there through 1979, sending plenty in CKD kit form to Iran.
Then Peugeot, who had bought up Chrysler Europe in 1978, killed production of the old thing and sold its tooling to Iran Khodro just in time for the Iranian Revolution. Iran Khodro who kept the Hunter in production, called the Paykan, through 2005.
So between the Chrysler Hunter, the Shamrock, and the DeLorean, it appears that the "luck of the Irish" doesn't quite extend to their auto industry.