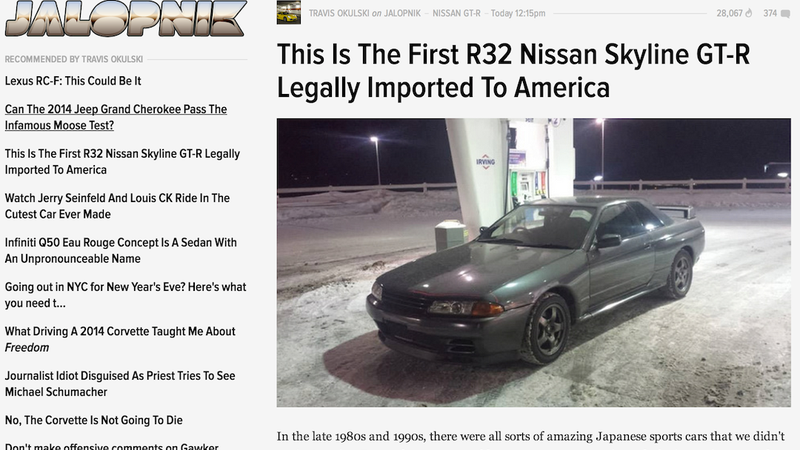 EDIT: I wanted to come back to this, and say as of now (March 2014) no importers mentioned in this article are currently bringing in cars before their month of manufacture. It seems most importers, after researching the issue further, concluded the cars are not legal until month of manufacture. It is still possible to sneak one in past a customs official who hasn't been made clear on the issue, but it is definitely not legal.
A lot of us commented that there was something fishy about the First Legal R32 from the FP. Import laws go by date of manufacture, and R32 GT-R production started in August. I found one explanation for how this car was possibly imported from Canada. First off let me say I've done a massive amount of research on the import process. However I've ignored Canada, because I never had the desire to import from there.
From Nostalgia Imports facebook page, they're stating the car was deemed eligible by US Customs because Canada only looks at the build year. They didn't state specifics, but they must have shown some type of Canadian documentation that only stated the year. The problem with this, is that it's a mistake. The law regarding this is clear, if the person enforcing the law makes a mistake, it doesn't nullify the law. That car is not a legal import.
More troubling though, is it seems this importer is looking to take that tact to bring cars in. I'm sure others will as well. They've also erroneously stated that once it's here, there's nothing to worry about. That is absolutely not true. I hope they do their research and come to realize even if the cars make it in, it doesn't make them legal. It seems up to that statement, everything they've done has been legal.
So now there is a new issue to worry about when buying an imported car. Did your importer sneak it in early through Canada?
I got into an argument the other day on Bring a Trailer over an illegally imported Eunos Cosmo. The car was being sold by Drag International. I was talking to Gerard in the comments after calling the car out as illegal. No matter the argument, he still insisted it was legal, but would not prove it. This is the problem with buying an imported car. There are many people that will take advantage of you. They will take advantage of the fact that people want to have something 'first'.
So if you're in the R32 market, Caveat Emptor.
EDIT: Including this excerpt from the NHTSA import FAQ (emphasis mine):
8. Importing a vehicle that is at least 25 years old.

A motor vehicle that is at least 25 years old can be lawfully imported into the U.S. without regard to whether it complies with all applicable FMVSS. Such a vehicle would be entered under Box 1 on the HS-7 Declaration form to be given to Customs at the time of importation. If you wish to see that form, you may download a copy from our website at www.nhtsa.dot.gov/cars/rules/import. You should note that the 25 year period runs from the date of the vehicle's manufacture. If the date of manufacture is not identified on a label permanently affixed to the vehicle by its original manufacturer, to establish the age of the vehicle, you should have documentation available such as an invoice showing the date the vehicle was first sold or a registration document showing that the vehicle was registered at least 25 years ago. Absent such information, a statement from a recognized vehicle historical society identifying the age of the vehicle could be used.