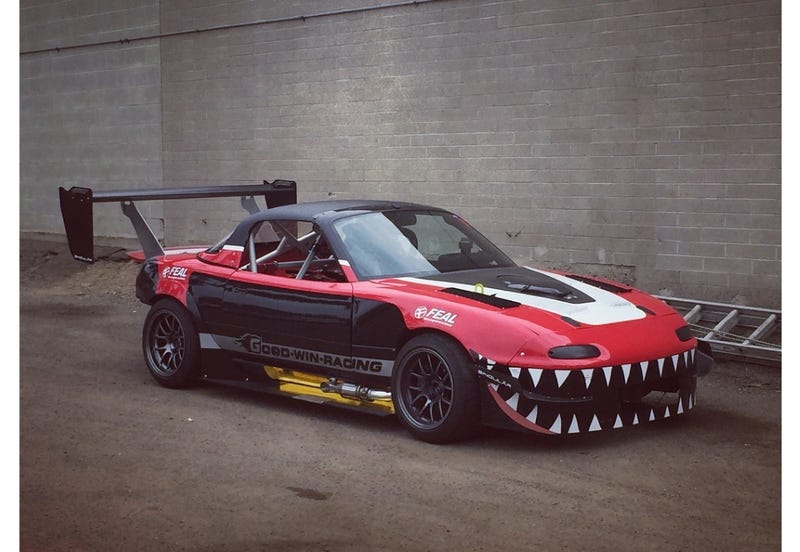 Brief story of how my friend went from racing a stock Miata to competing in time attack in the home-built LFX-swapped beast you see above, while crushing everything from Porsche GT3's and Dodge Viper ACR's to GT-R's. Not only did he dominate his class, he beat out the AWD class. On a damn shakedown run!
Seriously, if I had to pick one piece of writing for every gearhead to read, it would be Ryan Passey's build thread. The amount of knowledge contained within, and seeing him as he goes from amateur with minimal mechanical skills to one of the greatest Miata racers on the planet is incredible. Everything below is copy/pasted from his build log at turbomiata.net.
Here's the link That chronicles the v6 build, but if you want to read the first half of the build history all the back from stock Miata (which I recommend, I've learned so much from that part) I included the link below
https://www.google.com/url?sa=t&source=web&rct=j&url=http://clubroadster.net/vb_forum/89-roadster-projects/44470-my-na-becomes-track-car-build-thread.html&ved=2ahUKEwilzqG9-PjYAhWJq1QKHc7aAaMQFjAWegQIDRAB&usg=AOvVaw3yjfgc6P2FTYcX9hcuF1oL
Okay... And from here on out you're reading Ryan's words, circa 2017. The LFX swap hadjust been finished after eight months, along with all accompanying custom work, but had yet to be put to the test.
Superlap Battle 2017; the year-end finale of North American time attack.
aka "Miatas aren't good time attack cars"

With just an initial shakedown at ACS and a demo weekend at Laguna Seca to get the car roughly sorted out and work through initial teething, it was a race against time in the final weeks before Superlap Battle to finish and dial in as much as there was time for. I have huge faith in the recipe being built here, but always the realist, I kept expectations light because I haven't yet had time to optimize so many areas of the car the way I have envisioned. To be in contention for a podium spot at the car's first SLB would be superb. Also hovering in the shadows of this event was the chance to do something no Miata has done before; go sub-1:50 at Buttonwillow CW13. I know the car will be able to do it, but on the street tires we'll be running for Limited RWD? That is a tall order. The long-standing Miata lap record has been a 1:52.2 - that from a 400whp car on 275 Hoosiers.

We had our share of snags to work through. Spent three full days on aero improvements that we ended up unable to finish in time, and then spent another day making "plan B" aero additions. With just days to go we discovered a critical issue with the spherical bearings in the rear suspension and had to swap to factory arms with factory rubber bushings. Then, a day before the event we were swapping clutch master cylinders still chasing clutch engagement issues. BUT we got things done and and showed up to SLB with a solid running car.




This year's Limited Rear Wheel Drive lineup was stacked. SIXTEEN competitors - the most of any class this year. Porsche GT3s (yes, plural), Viper ACR, boosted S2000s, LS swapped M3s, great drivers, the list went on. This is the arena we built the HyperMiata for.

Day 1 was on old tires. With practically no prior setup time and running more aero additions here that we hadn't had at the initial shakedowns, the race for us was to get setup dialed in quickly. It was game on during the open practice session - every time in off the track we did a full setup sheet on the car. Prior to the event I had also written up a download sheet for me as the driver to fill out after every session - this worked great, my girlfriend would hand me the clipboard while I was still in the car and I would take a minute to go over the previous session while it was vivid in my head and note the changes I needed both with the car and with how I was driving. As an amateur driver, this proved a really valuable tool.

I had early thoughts of perhaps sandbagging if it looked like we were in the hunt for a podium spot since the turbo guys could turn up the power if they were feeling pressure early. But first, I felt it would be wise to just go out there and get a good solid time on the board during the first session that counts, because you never know what might happen and what challenges you may face later on.

First time attack session, 1:50.9. Already broke the Miata lap record. OOPS, so much for sandbagging. Even better, we were sitting in first! Change of tactics then, let's give it everything and let them chase us if they can. By the end of day 1 the sub-1:50 was in the bag with a 1:49.9!

Unofficial results at the end of day 1 had us in P1 with 2nd through 6th all scrambling for position in the 1:51-1:52 range. No point holding back now, for day 2 we swapped to fresh tires for the cool morning session, but I made the error of getting to grid late and had to go out in the back of the pack. I spent four laps carving through the field, and finally by lap 5 had clean track ahead but the tires were over temp.

Track temp was up substantially by session 2 but with good data from day 1 at these temps we dialed in what should work well and went out. I was still adjusting to what the car is capable of doing and beginning to feel comfortable with it. 1:48.7! Session 3, hottest and thus slowest of the day. Still found a cleaner line and another two tenths of a second. 1:48.5!

Session 4, the Superlap session. First flyer was feeling amazing - first time flat on the throttle from the exit of cotton corners through the right/left kink all the way to braking for bus stop. Nearly flat through the entire high-speed section of Riverside at 110+ mph. The car was magic. Then an Evo caught fire and the track was red flagged. That gave the tires some time to cool at least. We did a lap under yellow and then it was back to green. Another lap feeling better than ever, just flying - right until I caught up to another car at the worst time - in the middle of Sweeper where it's nearly impossible to pass until after the esses. Another throw-away lap. I slowed to let that car go and went for it again. Tires were getting hot now and it didn't feel as quick. Still set a 1:48.483!!!



Final results -
No other car in Limited RWD went under 1:51, my final time took the win by nearly 3 full seconds. Further, we were only hundredths of a second off from the fastest overall Limited class time. And the previous Miata lap record? Nearly 3 seconds below that, on the street tires.

On the podium, collected the champagne, big fake check and plaque and then yes, I yelled "Miata is the answer" to the crowd of (mostly) non-Miata drivers




On top of all this, we had a ridiculous Miata turn-out at the event, with the largest number of one single car make represented there. While I was cleaning up in Limited, Emilio took the win in Unlimited! Moti and Aaron both set new PBs, and there were probably several more Miata achievements there that I'm not thinking of. This was one for the books.