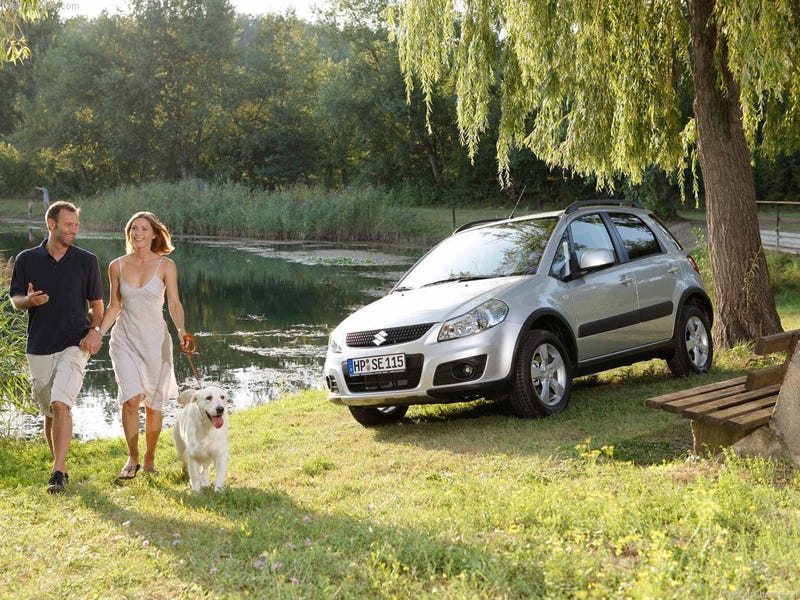 I love the Suzuki SX4.
They're not that great looking nor are they fast (though with the manual it's adequate for normal driving). But it's a cool little car.
My fiancee has one. It's neat. It's got a 6-speed stick. It's got an AWD system that can be switched on and off, with a lockable center differential.
The Christmas tree farm we used to go to allowed you to drive right out into the fields. It was slightly wet and sometimes a little bit muddy but it was fun driving the SX4 out there.
A couple years ago they put a natural gas well on the property and the road up the hill to the trees turned into a total mud pit. They posted a sign at the entrance saying "4x4 only beyond this point." I drove the SX4 in. An old man flagged me down and told me "you can't take that car up there." I locked the diff and took it up anyway.
I had to take care not to bottom out in the ruts but it went up the hill just fine. We had the only vehicle up there that wasn't a pickup truck.
The car came with a spare set of snow tires but last winter they wore out. This winter we bought a set of brand new ones plus a set of black steelies to mount them on. She hates the look of the steelies but I kind of like them.
Today we had a winter storm. Several inches of snow topped with a half inch of ice and then more snow. Most of the roads near here weren't taken care of very well and were covered with slop. My Impreza has an unrepairable flat tire and currently is running on the donut spare (fresh tires are currently in the mail) and fiancee works half a mile from home so I've been driving her car.
So once again the diff lock went on and so far I've put in almost 60 miles in the mess without spinning a single tire. It's the most solid-feeling car I've ever driven in the snow. Puts my Subarus to shame.
I want to find a parking lot and do donuts but I'm afraid it'll have so much traction that it won't even do them. That's a good problem to have.
Maybe next year we'll get a lift kit.
Also it's got heated seats.