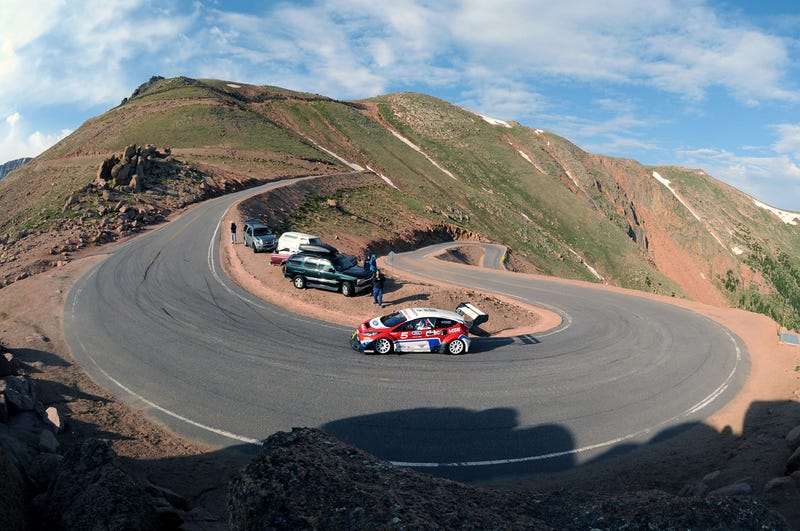 Today the driving god himself, Sebastien Loeb, arrived at Pikes Peak to make the first test runs with his insane Peugeot. Reports say that he already bet Rhys Millens 2012 time, but this year it is not just the rally superstar who is going for the win and overal record. Here is an overview of all possible record setters.
Sebastien Loeb - Peugeot 208 T16
9-time in a row WRC champion Loeb is competing the first time at Pikes Peak. And he brought a very special car along: Peugeot is celebrating its PP comeback by building the most insane car they could. It is a 208 hot hatch body with WRC 4 wheel drive. Power comes from a mid mounted 3.7L V6 taken straight from the LeMans racer 908. The huge rear wing comes from the same source, too. Combined the little Peugeot makes 0-62mph in 1.8 seconds. Yes, one point eight. Loeb described it as "Having the downforce of an F1 car, the traction of an WRC and the mechanical grip of an LMP1". If this beast with Sebastien "I am fast in every car" Loeb doesn't take the overal victory other teams must have done a tremendous job.
Romain Dumas - Norma M20FC PP
Romian Dumas usualy drives for Porsche in various endurance events around the globe and will be part of their 2014 Le Mans effort. Last year he raced a 911 GT3 R at Pikes Peak for the first time and instantly became rookie of the year as he took 2nd place right behind Rhys Millen. This year he stepped up his game as a specially designed Norma Prototype is beeing prepared by his team. They are still looking at different engine setups, but tons of downforce and a weight of around 1200lbs should make for a capable car.
Rod Millen - Toyota TMG EV 002
PP legend Rod Millen was hired to drive TRDs evolution of the electic vehicle. It is based on a Radical which is a good thing. There aren't too many specs about the car, but it set the EV record last year. With more power and downforce Rod probably could even give his son a run for his money.
Rhys Millen - Hyundai PM580T
Rhys Millen is last years winner and current record holder. Understandably he wants to keep his record, and that's why last years engine has been put into a new body. Now only loosly resembling the Hyundai Genesis Coupe it should provide a lot more downforce and a better power to weight ratio. Maybe this will be enough to stop Mr. Loeb.
Nobuhiro "Monster" Tajima - Monster Sport E-RUNNER
Finally whe have Monster Tajima. He joined the electic route too after beeing the first person to break the 10 minute mark in 2011. Now that PP is an tarmac only event times should drop even more. Monsters choice is an EV that looks a bit like the old front engined Panoz LMP cars and according to his team is capable of running a 9:30 time. That would have put him on top in 2012, but will it be enough for 2013? I am not so sure.
Did I forget someone or do you have some other favourites? Let me know in the comments.
Edit: Top picture from bethmeliason.blogspot.com