Okay on the latest edition of craigslist theater. I bring you this...
Yes that is a 1979 El Camino, yes it's orange, yes it's got lambo doors, and yes it is Fat Albert themed...this is so wonderfully terrible my face hurts.
According to the craigslist ad that can be seen here, this beauty can be yours for the low low price of $7500 if you live in New Mexico. Honestly it's not too bad a price for a running El Cam. However when you consider how much work you'll have to do in upkeep on the "pearl white alligator tonneau" you may want to pass on this collaboration with the junkyard gang.
It's a shame but according to the original post, the monitor in the license plate bracket has been removed and so have the window decals. Why anyone wouldn't want "Freshly Squeezed" in white script across their windshield is beyond me.
This whip also sports the first secondary custom grill I've ever seen, and i'm not talking about the one that hides the radiator.
Honestly I'm not sure if this qualifies as a legit DONK, but since it sits on a six inch lift I'm going to say yes...hell yes. Besides, this bad boy is rolling on 24" wheels and tires that are sure to make you feel every inch of crappy New Mexican highway.
But much like the tonneau cover, this fabulous ride wouldn't be complete without a custom interior. Equal parts Alligator and insanity this cabin sports no less than two LCD monitors and enough bass to really piss off anyone, anytime thanks to the "2 12" MTX subs and Kenwood 800w amp."
and if you were wondering about the front of the car and the loudness of the horn, apparently the gloriously chrome "big ass airhorns" have been removed but you can still get them included in the purchase price of the vehicle.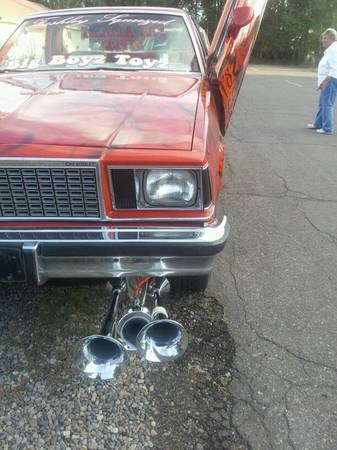 In all seriousness though, someone did put a ton of effort into this ride. and they clearly weren't half-assing it when they did it. So if you're a fan of Bill Cosby and want to show your pride, then your car is on the lot.