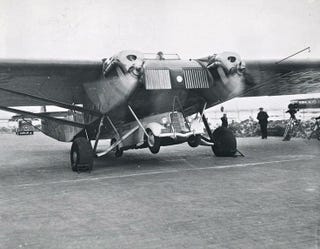 Came across this picture somehow and just had to know more. The weird plane is a Brunelli CB-16; a design by a Canadian aircraft designer in the 1920's. The car is a 1935 Ford Roadster. The plan was hatched by the Sun Oil Company in an effort to prove that their gasoline performed better in cold weather starts. They flew this plane with the car underneath around Long Idlamd. The only account of the test said it was unsuccessful; which I'm taking to mean the car failed to start at altitude.
The designer made numerous variations of this same theme: twin engines attached to the fuselage as opposed to the wings with wide airfoil type body for either cargo or passengers.
At one point a later design was shipped to England with licensing rights to build copies sold to a manufacturer there. Unfortunately, they went into receivership before starting production. A new company the Cunliffe-Owen Aircraft Corp bought the rights to that later design, but bad luck struck again when only one copy was made before all civilian aircraft production was halted. This is that plane called the Clive Clipper: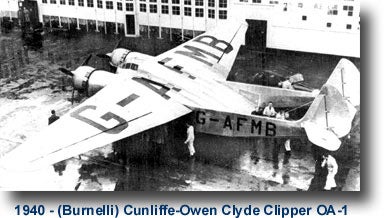 That plane was used by the RAF and turned over to the Free French Air Force. At some point it became the personal transport of General Charles de Gaulle.
If you like aviation misfits as much as me this article was the main source of information I found