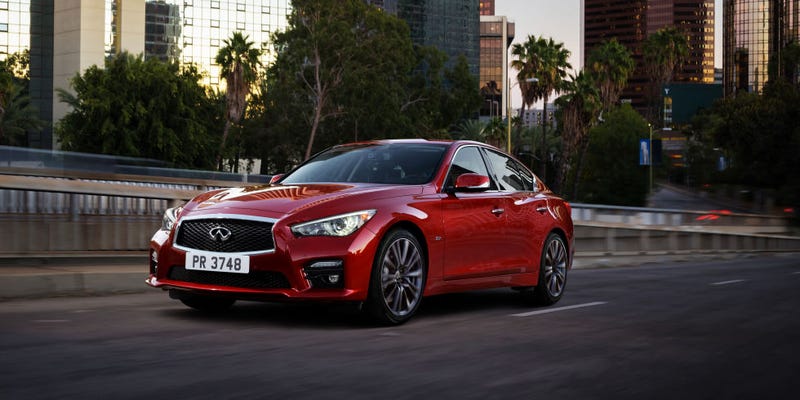 Even though it sucks that the "4-door luxury GT-R" Q50 Eau Rouge didn't happen, Infiniti is selling a sport sedan with the latest version of the GT-R's V6, downsized to 3 liters and given direct injection, resulting in a 400 horsepower, and 350 lb-ft of torque. Even though you can only get it with a slushbox, this shit should be exiting.
Why is it, then, that nobody is excited about this car? Back in 2002, when the RWD, 350Z-engined G35 arrived and proved that the 3-Series wasn't the only option for entry-level luxury sports sedans, it seemed like Infiniti was the driver's choice as far as premium cars from Japan went. And then Infiniti got all confusing from a branding perspective (WHY DOES THE LETTER/NUMBER COMBINATION MEAN NOTHING PRACTICAL ANYMORE?) and Lexus launched the current IS F-Sport (which is fucking awesome) and it was all lost. This looks to be a return to form, and should be getting, like all the hype.
But why isn't it? I get ignoring Acura, who seems content in making Hondas with more leather and also I guess the NSX, but why this? The 400 Red Sport should be a huge deal, and it saddens me that we have a modern Prince Skyline GT-B and it's not getting any attention.
That whole Prince Skyline GT-B thing may be my personal automotive fixations overriding logic, but I don't care.