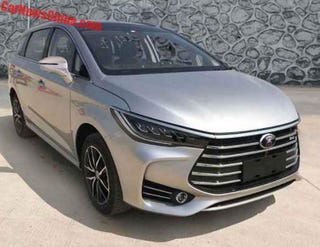 Yeah, that title was more clickbait than a Vehicles Virgins video, but I can assure you that this chinese hyundai minivan is indeed an M5, but I didn't say what kind of M5.
This abomination of chinese copyright laws is called the BYD M5 SongMPV, I discovered it while searching the BYD brand after seeing it in a youtube video. It looks as if someone just took a Kia Sedona, added on the Hyundai corporate face and a fat Lexus RX rear. That someones name is Wolfgang Egger. Does that name sound familiar? Thats because he was a designer for Alfa Romeo and Audi before joining BYD, here are some of the cars he designed:
And finally:
What the hell! The man who designed both the Audi R8 and the Alfa Romeo 8C Competizione (One of the only cars Jeremy Clarkson genuinely loves) couldn't make any better design than that triple-ripoff of a Kia Sedona. Get your head in the game Wolfgang.