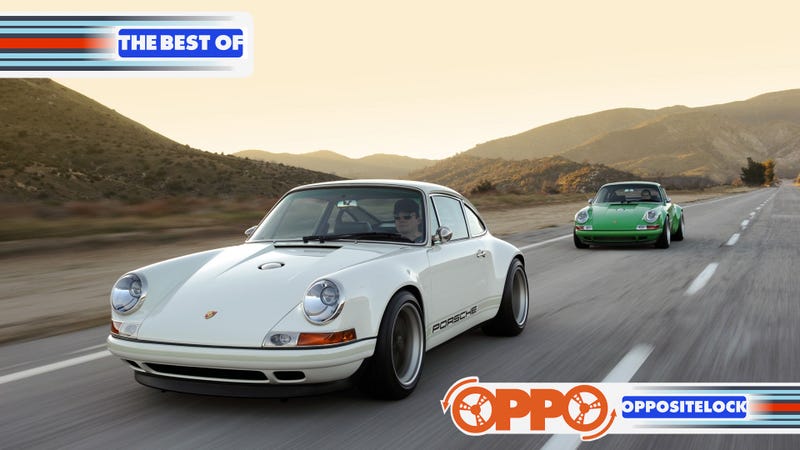 Gathered here are the Oppositelock posts that people put a good deal of effort into writing over the weekend and Monday. It includes the effect of autonomous cars, 2014 F1 regulations, '55 Buick Super and more.
On my way to work this morning a woman in a Pontiac G6 cut me off, beating me to the already-red light and managed to set off my Jeep's rather frightening BRAKE-BRAKE-BRAKE alarm. After contemplating if Launch Control would give me enough squat to plant my front wheels on the trunk of her government-issued G6, I had an interesting thought: how will our tenacity to get ahead of the other guy sit with the programmed rules of self-driving cars?
In 2014 a number of regulations, some major and some minor, will transform the look and feel of next year's batch of F1 chassis. Keep in mind that these are just a few expected solutions to the new regulations and will not in literally reflect what will actually be unveiled after the new year. Also check out the discussion for the Brazillian GP.
For the past few months, this is the car I've been driving. The Alfa needed some work, the BMW stays crashed (can't find a front wing) and in my vast fleet there wasn't a single vehicle that could take me to work. Rather embarrassing I must say. So, my grandad lent me his 2.0l Honda Stream Sport, for which I am very grateful. I strongly suspect the 'sport' is ironic though...
Love is strange. I am not a car fanatic per say, but I like cars, and I always had a very keen intuition when it comes to cars… However, I have always remembered cars that I love. They hold a special place in my memory. I have travelled the west pretty extensively, and through my observations and experience I realized one thing: there is a lot I have to learn. So let's get on with how come I fell in love with this car called as Mahindra Quanto
The time has come. I've finally decided to review my 1955 Buick Super. This has been something I've intended to do for a while, but haven't gotten around to until now. A little bit of background on this car. We got it not very long ago (August 4, 2012- Ill always remember that date.) I got it off of ebay as a "project," even though it looks just fine. We wanted something that we could drive and have fun in, but still have things to work on.
The reason I'm writing this guide is because I want to share what I've learnt in my years owning my Land Rover. This way I can let you guys know what to look out for when buying a Land Rover Discovery II, now this isn't a definitive end all be all guide. I strongly suggest you do your own research and go in with your eyes wide open and have an idea on what to expect. I'm writing this from the point of an enthusiast of Land Rovers so things I find easy to look over other people may not.
The Dodge Challenger is a throwback car like its current competitors, but unlike the Chevy Camaro and Ford Mustang you can actually use the rear seat for people and not just groceries. Essentially unchanged from the 2012 car, the 2013 Challenger offers comfort and a smooth ride owing to its shared platform with the Chrysler 300. Offered in three different trim levels (SXT, R/T, SRT8) the SRT8 represents the ultimate performance option; the top gun of Challengers.
Reading the new article about the Supra hybrid I posted a comment. I don't want a Hybrid supercar Supra. I want a muscle car or GT car, you know, what it used to be. Strangely I was inundated with people trolling me and flaming for this opinion. The idea to have a Supra that competes with the Camaro or even a 135i at less than $40,000 was just crazy to them. This doesn't make any sense.
The Fox Body Mustang GT is a prolific platform for drag racers, but it's work more than numbers that make Michael Murphy's white 302 coupe something special. To see such a thoroughly understood vehicle - I have no doubt that Murphy has at one point or another addressed every component in the vehicle - and talk with the owner in person should be a required experience for every Jalop. Check out the video for both a history on the car, and some automotive philosophies that every enthusiast of any interest should consider.
Today is installment #2 in my "Automotive No-Brainers" series, dedicated to the idea that Mitsubishi Motors and PSA ought to be doing the horizontal hokey pokey… After a decade of languishing, Mitsubishi Motors' financial situation is only now looking to improve in North America, the second-biggest auto market in the world. Their plant in Normal, IL is running at less than 20% of their production peak in 2000, as well. And they just announced plans to replace their unloved Galant with a Korean-built Altima-based Renault-Nissan product in the near future. So Mitsubishi will be bringing a Renault-Nissan product to market that will compete with Renault-Nissan's bread-and-butter Altima. And the rest of us are left scratching our heads.
The Porsche 914 is decent bargain for a mid-engined German car designed in the 1960s, but only if you are careful and avoid the garbage people are selling out there. To help you out we've sequestered a dozen of the best ones we could find and will sort the wheat from the chaff. A few are stock, but most have had the original wheezy flat-4 tossed in favor of Chevy V8, Mazda rotary, bolt on turbo and flat-6 power.
We know thing for true; bros like trucks. Hell, that's why "Bro-Truck" is now part of my vocabulary. But lately, I've been noticing an especially aggravating trend; the real frat-boy ,mom's credit-card borrowing, Ralph-Lauren Polo hat-wearing douchebags now drive the Chevrolet Avalanche.
Let's face it, EVERYONE has had at least one "Vanilla" or "Beige" or boring car in their life. These are the cars you don't normally want when you become "enthusiast". But, for me, there is one "beige" car that I truly do love, The Opel Astra Classic II.




The Best of the Rest
Acousticaperture took photos at Katie's Cars & Coffee. TwinTurboBMW posted photos from Cars & Coffee in Portland. Jagvar went to C&C Great Falls. Paul, Man of Mustans bled his brakes and rolled his fenders. Cbell04 replaced the taillight on his brick. Coriolis put his Focus ST in winter mode and installed his vanity plates. BJohnson11 had problems with the drain plug of his truck. Bandit drove a '69 Toronado. Liquid_Popcorn crashed his GTI a little bit. KB Garage picked up a Jetta. The Jevans replaced the O2 sensors on his Miata. MonkeyPuzzle installed new tires on his Subaru. Mastapoof went to a small car show. Cazzyodo taught his girlfriend to drive stick. Sam I attended the San Antonio Auto Show. A Veyron visited Jagvar's office. Mehugtree pulled the engine out of his Miata.





As always, If I've missed something and you would like me to include it, let me know.
Fun Discussions
There were several posts that asked questions and sparked some good discussion over the weekend and Monday. Take a peek and chime in on some of them listed below:
Just the #tips
Honourable Mentions
These posts have already been shared with Jalopnik directly but deserve to be mentioned again because they were first posted in Oppositelock:
Want to participate on Oppositelock? Check out the general handbook for posting on OppositeLock as well the Oppo tools to help you get started.