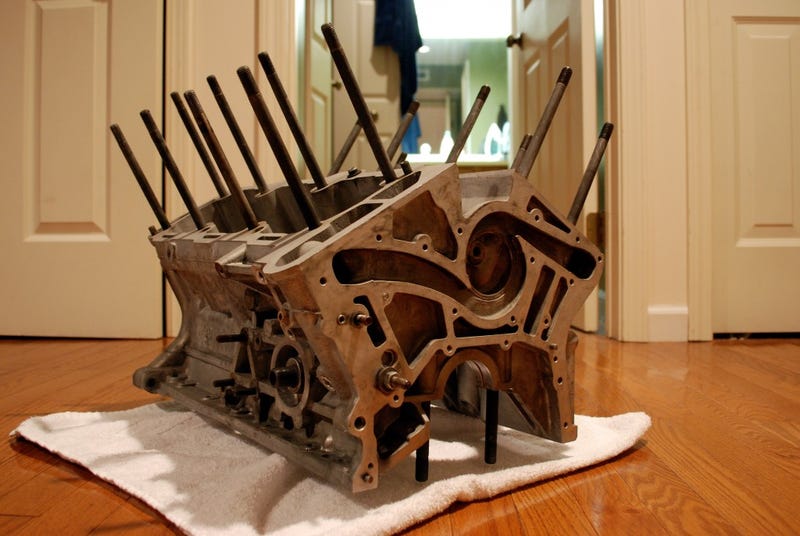 From Graham, BlythBro #2 on BlythBros.
Original post here
Continued from Alfa Romeo Milano Verde Part 1: Introduction
Understanding why the Milano's engine had seized so suddenly and ruinously on 1-70 required minimal disassembly. The first bolt revealed metallic sheen of the oil – not good. 17 bolts later, I was staring at a mangled connecting rod cap sitting in a rubble of rod bearing annihilation – oh no, crank is bad. Then I noticed the coolant lingering in the lower oil pan, and started feeling better knowing that at this point, at least I'd get to meet another Alfisti, because the block was toast.
Now, the root cause of the spun rod bearing and subsequent destruction is more difficult to establish. 10 minutes prior to the excitement, I had checked the oil level, so oil was available, at least to the oil pump. The oil pump seemed to be working too, since the low oil pressure light never came on, and the oil pressure gauge never dropped. Some cavitation damage was present on the oil pump rotor, but given the adequate oil pressure, not enough to blame for loss of oil film. The oil itself was in good shape, having been changed 700 miles ago.
Tearing down the old Verde lump, a clue surfaced: a spark plug was completely oil-fouled. That explained the minor driveability issue I was experiencing – the cylinder wasn't firing consistently and causing the car to misfire under load. Unfortunately, this symptom persisted for the first (and only) 700 miles I had owned the car, leading to a constant dilution of the oil by gasoline. I think that the diluted oil wasn't viscous enough to maintain a proper oil film, leading to the failure.
So, could the issue just be operator error? Sure! But, I'm not really sure what I did wrong. What I do know is that this failure wasn't due to an Alfa Romeo design flaw as much as it was the result of deferred maintenance on my part. I didn't think to check plugs. Next time.
No matter what the case, I was still in need of a new short block. A few phone calls to Alfa parts hoarders and occasional sellers were enough to convince me that I didn't want to pay for a professionally rebuilt engine. A running engine to just drop in was another option, but my engine was technically a 'runner' when I bought the car and that didn't last long. So, I set out to acquire a short block or possibly a whole engine to rebuild on my own.
Finding an engine to rebuild was a matter of searching 'Alfa V6′ in Craigslist and contacting the first local seller. After negotiating, I agreed to pay $550 for 164 engine with a complete Centerline Alfa gasket and seal kit (which sells for $300). Really, $250 for a 3.0L Alfa V6 is reasonable. The engine was only 2.5 hours away too, so transportation costs weren't even going to come significantly into play. So far, I wasn't feeling too much pain!
But, I was sure to expose my friend Chris to any anticipated pain, so I enlisted him to accompany me to Dayton, OH to pick up my new engine. After meeting the seller at her front door, we backed the GTI into her garage, where the engine was sitting on a tire. Lifting with our backs (to save our legs), Chris and I managed to heave the engine up, then deviously shoehorn it through the hatch of the GTI. We were nearly a few grunts short of succeeding in our efforts, but somehow, the disapproving looks from the seller proved motivational enough to sacrifice our backs.
The washboard of Interstate between Dayton and Indianapolis served to soothe some of the strain, no doubt. Though, less soothing was the thought of unloading the engine at home. I really assumed that the roof of the GTI would need to be removed to extricate the big Busso, so I was pleased as I squeezed the arm of the engine lift into the hatch and plucked the engine from the GTI. Honestly, I think I wasted 10 minutes by using the GTI instead of taking a pickup truck, but the 6 hours in the GTI atoned for any time wasted loading.
So, the next time you think you need a pickup truck, hopefully you have a rat king of classic cars waiting for your attention – otherwise, any old hatchback or wagon might fit the bill! And, when you come across people mocking Alfa Romeo reliability, don't forget to rationally factor in the propensity for neglect associated with older, rare, depreciated vehicles. Please continue to mock them though, as I plan to continue to hoard as many Alfa vehicles/parts as I can.
Next in the series is Alfa Romeo Milano Verde Part 3: Rebuild
For more stories about life with our 84 GTI, 88 911, 87 2.3-16, Alfa Milano Verde, Alfa 164LS, e30s, and more, check out the BlythBros. Blog We promise not to be too bitter. Sort of.