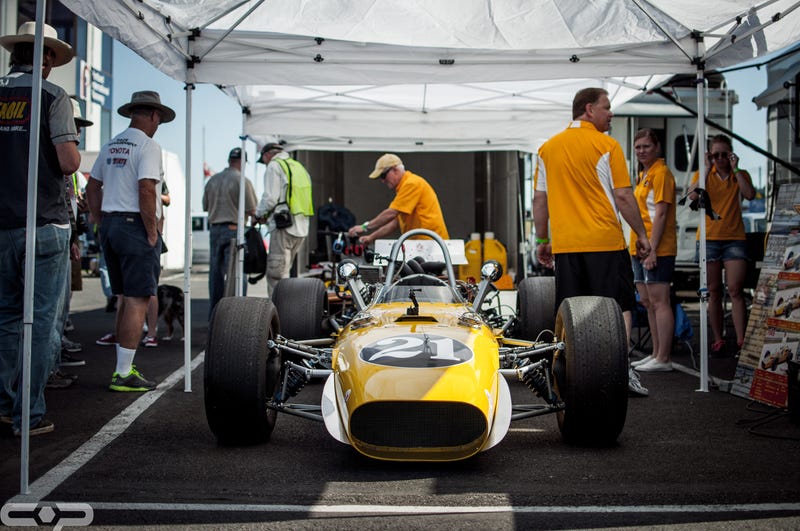 On a whim, I drove up to Portland on Sunday to check out the yearly historic races that happen at Portland International Raceway. It's incredible I haven't lost my hearing, since I don't want anything to come between the glorious scream of the old beasts and my ears.
If you can do some fact-checking on this Indycar driven by the great Jim Clark, I'd appreciate it. I believe different forms of the same car ran from 66-68, but I can't find specific info on this car. When the crew shattered the crisp morning air by starting up the V8–which I can only describe as having the same timbre of Tom Jones–I nearly lost all control of my bowels.
I think you might recognize this 907. If I'm not mistaken, it's the same Porsche featured in a previous Midnight Oil. Just to see it in person and to absorb its aesthetics, it didn't need to move an inch to elicit sheer speed.
I certainly didn't drive about an hour just to take a few photographs and not enjoy the sights and sounds, sans camera obscura, but it was great when things fell into place right before my very lens. Toothy grins, et al.
I was attracted to this old Scuderia Ferrari Alfa Romeo like a magnet, for a good half hour or more. It was almost a hidden gem because it wasn't really among the rest, just parked on the far corner of the paddock waiting to be admired.
Unfortunately, the only action shots I have of Al Unser Jr.'s Can-Am car are on my film camera, which I promise to get developed soon. When its class took to the tarmac, I stood on the bridge, with the cars essentially passing underneath me. The overtakes the driver of Unser's car initiated were absolutely ballsy.
More artsy fartsy of the 907, standing shoulder to shoulder with a Chevron Can-Am car.
And with this final photograph, I conclude by saying…
Legends never die.