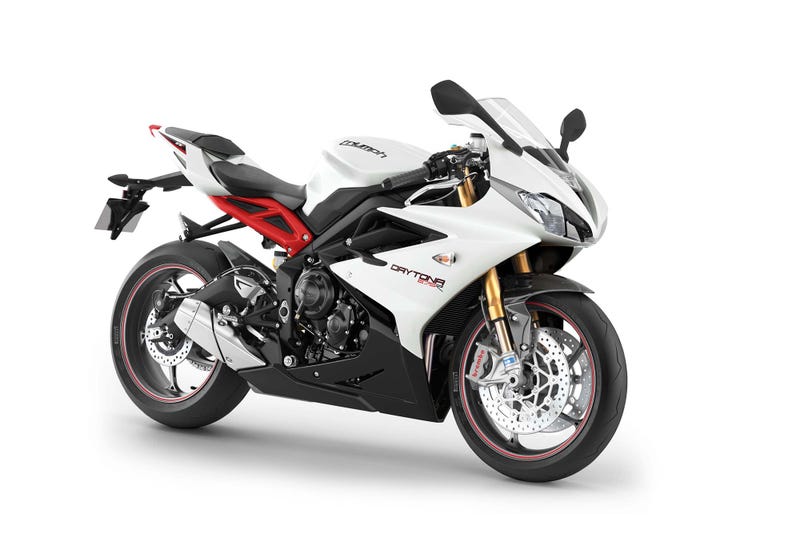 So, i want a 2013+ triumph daytona 675R. My original plan was to go with the white one and do for a white/red accent color scheme (i'm already had 2 black bikes, one with red accenting) but, a friend of mine got a white one this year, and is going down that route. and I dont want to look like i'm copying him...so new plan.
Get a BLACK 675R, and got for a black/yellow scheme reminiscent of the older 675




So the lower fairings would go black (might just trade with my buddy)
paint the rear sub frame yellow/gold
black out/carbon wrap w/e silver is on the front end
yellow neons inside the frame

then, send the headlight off to let BKmoto do their magic:
though mine would have
yellow demon eyes,
orange outer halos (for turn signals)
possible red inner halos for when i'm parked
black background



tail section would recived a tinted squential brake light, and orange LEDs inside the vents in the tail section to flash as signals as well.



not to mention this under tail kit (you can see where i want to put my orange neons)





as for performance, K&N filter, MSJ headers and a taylor made exhaust


Id have to peel off red striping on the wheels...which i think I might leave grey. and get yellow stickers for it

(same design, but yellow)






now....to start pinching pennies and working towards this goal...