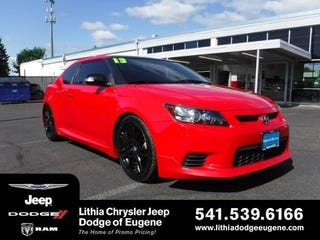 What can I say? Red is probably my favorite color on a car. That being said, it makes this Scion more attractive. The red stitching on the seats also provides the desolate, drab interior with a little... [inhales]... PIZZAZZ!

Also has the rear spoiler, which makes it look less ridiculous.
I feel like the tC could be both practical *enough* and liveable. It would be a good car with hmmmm economical build quality (CHEAP), but reliable.
https://eugene.craigslist.org/ctd/6176322634.html
I still have no idea what I'm doing. I don't want a sedan (I'm warning up to the idea, but not quite there yet), don't want or need an SUV, am only interested in a very few select old Toyota whatevers, still mulling the SC400, and the biggest pickup I can stomach is a T100, and 1st gen's Taco back seats are not what I need. Would I consider an E91? Yes, if in good condition, low miles, affordable, and manual. But those don't exist, so let's move on.
Budget? 10k is well beyond my comfort zone, but my budget might be 12k?... No car payments, at least not now. Timeline? Sometime before Christmas maybe?
I don't know. The benefit of my revolving door of old beaters is you never really lose any real money. You're not committed to anything. But I think having one really reliable do-most-things car with a trusty pickup on the side is appealing.