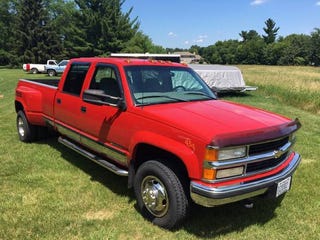 So the truck I just bought was set up to seriously tow. It has gooseneck mounts, fifth wheel rails, and a swing/swivel hitch (more on this in a second).
I towed the boat for the fist time and it's like it's not even back there. Setting the cruise at 72mph seems optimal since once you go above that the exhaust note starts getting loud enough to be annoying (it has a custom dual exhause with the cats removed and 4.10 gears). This is fine with me as you shouldn't be in a rush when towing anyways.
Now about that swing/swivel hitch, this is what it is (when I saw this truck it was the first time I'd ever seen or even heard of them)
It allows the receiver to swing side to side or slide in and out when hooking up a trailer. Useful if you don't have a back up camera or a spotter. Well, I'm hoping that when I was messing around with it to see how it works it didn't completely latch, because it slide out on the way home. Seems to be built sturdy enough for that not to be an issue if it does happen, but still. So now I'll have to keep an eye on it and if it happens again I think I'll be replacing it with just a regular receiver. Anyone here have any experience with this type of hitch?