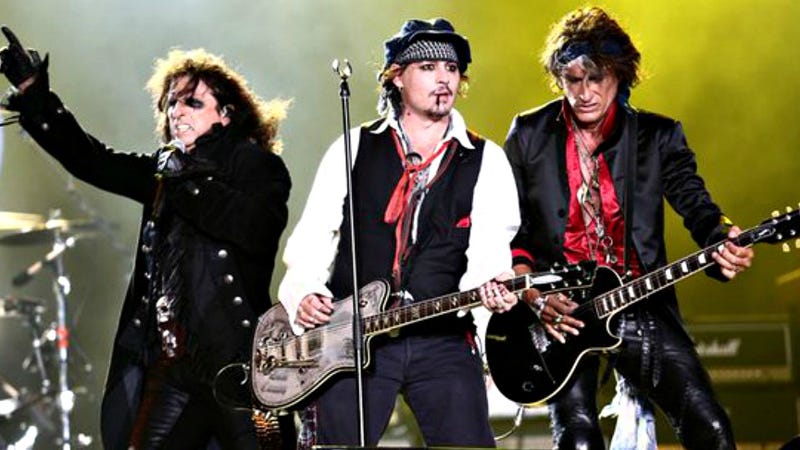 For those of you that have never heard of the band, it was put together as a tribute to the Hollywood Vampires drinking club that consisted of the Alice Cooper and numerous other rock stars that have mostly passed away. The band consists of Alice Cooper, Joe Perry (Aerosmith), Johnny Depp (the actor), Robert DeLeo (Stone Temple Pilots), Matt Sorum (GnR, Velvet Revolver), along with Tommy Henriksen and Bruce Witkin who have both worked with a variety of acts.
I saw the show at Summerfest in Milwaukee and it was among their first along their tour schedule. The reviews after the show were pretty critical but I think they missed the point of the band which is why I'm writing my review.
The show kicked off with a brief video showing the members of the drinking club with brief sound clips, then put all their faces onto a single screen only to replace them all with headstones. The band then took the stage and played one of few original songs for the night, "Raise the Dead."
After that they went through a variety of covers of musicians that have had members passed away- Bowie, Motorhead, The Who, The Doors, Led Zeppelin, T-Rex. They mixed in a couple more original songs but it was mostly covers throughout the show. My favorite was the cover of Whole Lotta Love. Alice did the intro in his slightly creepy sounding voice which was an awesome twist on the original, then when the guitar solo came around, he instead performed it on the harmonica.
https://www.youtube.com/watch?v=ENLOcB…
The reviews I read were all critical of how it was just a supergroup playing a bunch of covers, but that's exactly what they were trying to do. They weren't trying to be revolutionary or create new music, this was all just a tribute to friends and those that influenced them. The best part of the show in my opinion, was the amount of fun all of them on stage were having. There were a few times where you almost forgot that they have been in the music industry so long because their guards were down and they were just having a good time and feeding off each others' energy.
I do feel like Jonny Depp was more of a distraction than he was a contributor to the band though. He only played rhythm guitar and just walked across the stage with a constant spotlight on him. Perry or Henriksen would be playing a solo, and the spotlight and camera would still be on Depp. There were more women at this concert than most others I go to so it would have been interesting to see what the demographics would have been without Depp. Still, I give the inclusion of Depp a pass for my same reasoning above, they're just having fun and as long as he can keep up, that's good enough for me.
Overall, I'd highly suggest seeing them if you have the opportunity. You'll hear some familiar songs played by some absolute legends as a tribute. It won't be anything groundbreaking or inspirational, but it'll just simply be cool.