Why can we make a racing series that doesn't cost more than Ferrari to race in and be competitive. Because there are those like Ferrari and Audi that enter and dominate. Im not forgetting LeMons or autocross, but i'd like to have a "poor man's" racing series. The few times i've been able to rally or autocross i had to pay for any and everything. That was off minimum wage though. And it was a lot. For someone making more, autocross is simply the cheapest out there. Now put that in terms of indy or f1. The money that allowed autocross is now less than lemonade stand money. Even rally the "cheapest" of professional racing is still difficult to stay competitive.
I also understand the making a racing series is difficult, expensive, and meth inducing...wait no shitty...no...stressful there we go. Maintaing it is even more difficult until it gets popular. So why not make it the best racing ever. Sounds of all kinds, engines of all types, and innovation galore. There would be price ceilings that are reason able to lower funded teams (Kligerman could actually continue racing) and the only car restrictions would be parts, fuel, and safety. Use a big v10 to get around as fast as possible or a turbo i3 for endurance. To make it interesting I think that two wheels must be covered. Morgan 3 wheeler with some thin wheel covers, a T-rex with a full front fascia, indy car with rear wheels covered, whatever...
Any way it's just a concept and im pretty sure the FIA would be jerks about it, but i want to here what you guys have to say. Can-Am for added emphasis...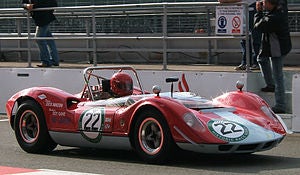 and its a Mclaren.