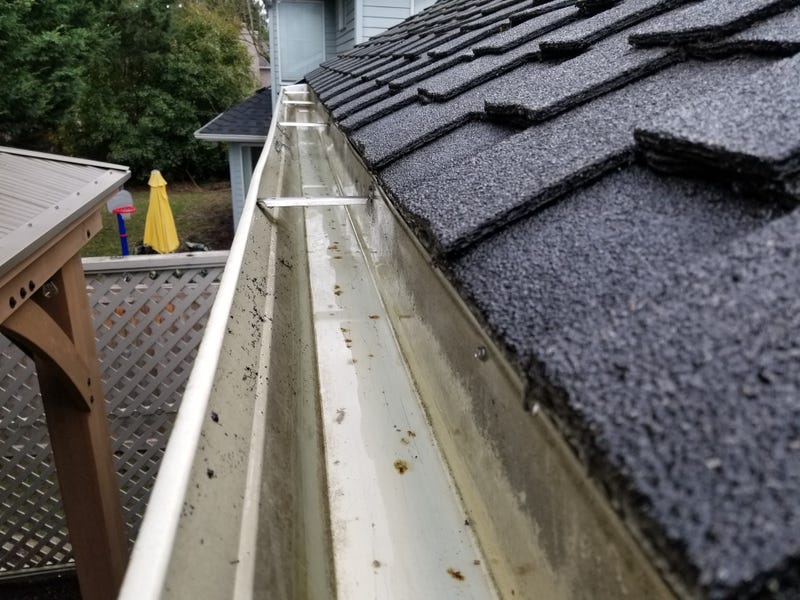 If you hire someone to do work for you, try to check beforehand that you actually need that work done.
Also, shop around a bit. You see those clean gutters up top? That's how they looked when I arrived for the scheduled gutter job. Not a thing in them but a few rust spots. The first company she had come out to give a gutter cleaning estimate? $600. That's right, someone came to the house, got up on ladders and looked over these gutters and told the lady that she would have to pay $600 for her spotless gutters to be cleaned.
So... She called her window washer for a second bid (that's me) and I gave her an estimate over the phone. And now here I am, having spent ten minutes hosing out one gutter section to make sure the downspout wasn't clogged. And.... I'm done. Completely finished. Ten minutes for *potentially* $600. Suffice to say, I did not charge her anywhere near that because I'm only a dick OUTSIDE of work.
Gaaaaah. Business owners: have some decency. I know you have to make a living, but that doesn't require ditching your morals by the wayside. And homeowners: don't be stupid. If you're easy prey this kind of behavior will not stop. You could have climbed two step up the step ladder in your garage and seen the perfectly clean gutters. Or... You could have looked out the second floor window.