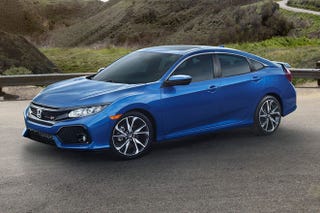 I wasn't impressed when the new Si debuted a few weeks back. This time around it honestly seemed like Honda didn't really bother, and mostly put all of their focus on the Type R. But now you have the above pictured Si that's way to close in trim and power to the newly released Sport trim which is found on the Civic hatch. Curiously, I also found it odd that they didn't offer the Si on the hatch. It could have something to do with the Sport trim I'm not sure. Which is honestly the better buy though? Lets compare them.
The Civic Sport and Si both share front fascias. They are pretty much identical expect for the fact that the Si doesn't get the LED headlights the Sport Touring does and the absence of Si badges on the Sport. They are also offered on different body styles like I mentioned before. The Si can be had in sedan or 2 door coupe while the Sport only comes on the hatch.
Out back the Sport gets a small spoiler and twin center exhaust which look good and honestly looks more aggressive than the Si with its single oval shaped exhaust and rear spoiler:
Inside there's not much difference either aside from special Si and red stitching on the steering wheel. Both have aluminum pedals and carbon fiber look trim.
But who cares you say! They are both Civic's! Of course they are going to be identical in a lot of ways! True. But that's not my point here. I'm trying to point out if one worth it over the other, which leads me to my next comparison of them that really matters: performance.
The Si has the 1.5 turbo 4 putting out 205 hp and 192 lb-ft of torque. Its up just 25 horses over the turbo in the Sport trim. Other than that the Si gets a mechanical LSD and a sport-tuned suspension with adaptive dampers over the Sport, bigger brakes and 2 driving modes to choose from, Normal and Sport. All this should help the Si corner better.
But after comparing the 2, which would you guys consider? The Sport should be cheaper, and with a tune that I'm sure the Honda tuning world already has or is working on, it should easily best the Si's power figures. But then the same tuning can make the Si even more potent. Honestly though Honda under delivered with this Si, and between it and the Sport I would have a hard time choosing between the 2.