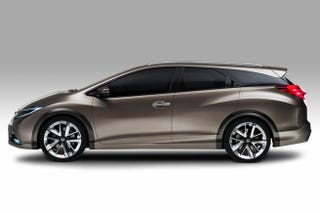 DO WANT. This is one of those preview concepts, so make the wheelarch lips out of normal black plastic, tone down the blue headlights (but not their shape obviously) and cheapen the wheels a wee bit to see something else nice that's Europe-only. The Concept sports a new 1.6 Turbo Diesel engine making 118bhp and 221lb/ft. I kinda want this actually. The tail lights fit a lot better too.
I suppose it's not really a sketch so much as a blurred preview, come to think of it.
DEM LINES
Hiding the rear door handle gives the rear bone line room to breathe.
Tail light strip across the tailgate may or may not remain for production. The exhaust pipes probably won't, but they should.