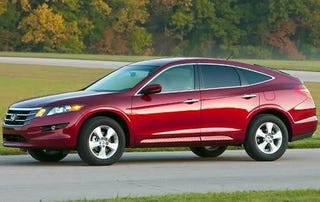 Friday afternoon before a long weekend at work, so nothing is getting done.
I thought I had though, I think honda make a mistake selling the crosstour (other than conceiving it in the first place).
They simply had a naming problem. They should have called it the CRV coupe! It would have made sooooo much sense to the 20-30 year old women you always see driving a normal CRV. I mean, the CRV is the ultimate car, so the coupe version is ultimater!
But its probably a good idea they didn't, otherwise we would have to see these eye sores on every single corner.