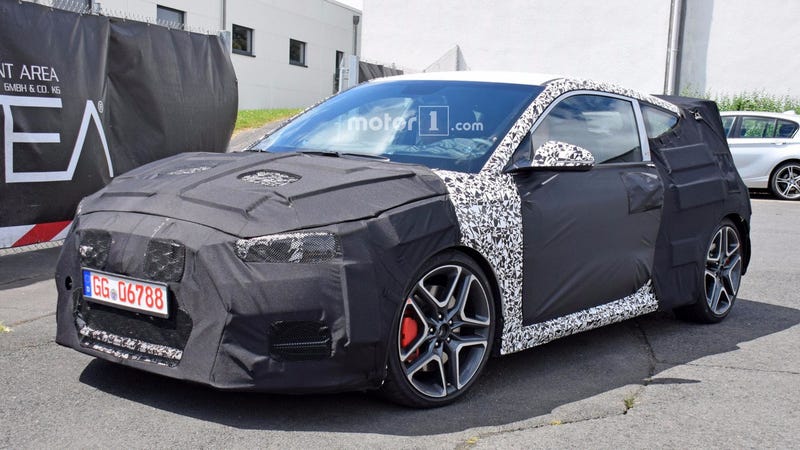 Here are some recent spy pictures of the new Veloster. Still has the same asymmetrical door set up and I have zero doubts of an independent rear suspension being present now on the turbocharged models. Big news is the likely 246 hp, 2.0t Veloster N has been caught. Get a gander at these exhaust tips!
Guess Hyundai is getting a lot meaner than I was expecting judging by the AMG-like wheels and that tire width. Here's the upcoming 201 hp, 1.6t Veloster Turbo for comparison.
Back to the N-ster...
Get a good look at those brakes and wheels sizes...
...and now back to the T-ster.
Pretty big gap between the two! Especially since it seems the Veloster is NOT going upscale at all. That is very much a modern economy car above. I will say however that the wheel design and more styling elements than I expected appear to be from the RN30 concept. I got it below...
So it seems as if the first N branded car in the US will be the Veloster next year while Europr will get the GTI-fighting i30 N (our Elantra GT). There is an Elantra 4-door Fastback coming next year which should get all the goodies from the i30. After that, they say a Tucson or Sonata but I think thats a lie this decade.
Well since you're here, how about some quick speculations so that I won't need make a second post?
Hyundai N Performance Speculations
This Fall 2017 Europe gets the i30 N hatchback with roughly 245 hp and 271 hp with the performance pack. We in US don't care because we can't have this one.
Spring 2018 the US (and other markets) should get the new Veloster with a range that goes something like this:
*Can't guess on base range besides keeping the torsion beam and staying around an $18,000 entry.

Veloster Turbo [$22,000] - FWD, IRS, 1.6t making 201 hp, 6MT and 7DCT.

Veloster N [$24,500] - FWD, LSD, IRS, 2.0t making 245 hp, 6MT and 8DCT. 
If it gets a Performance Pack then it will bump up to 255 hp, not the full 271 hp. [$26,500]

Then we will get the Elantra Fastback which includes an N variant.
Elantra Fastback [$19,000] - FWD, NA 2.0L making 162 hp, 6MT and 6AT.

Elantra Sport Fastback [$22,500] - FWD, IRS, 1.6t making 201 hp, 6MT and 7DCT.

Elantra N Fastback [$25,500] - FWD, LSD, IRS, 2.0t making 245 hp, 6MT and 8DCT.

Elantra N Fastback Performance Pack [$27,000] - 2.0t making 271 hp.

After that I think Hyundai is making a sportscar. What we assumed would be a two door version of the compact Genesis G70 I say will end up being a Hyundai instead. For now I'm calling it a Tiburon. Fall 2018.
Tiburon 2.0t [$26,500] - RWD, 2.0t making 275 hp, 6MT and 8AT

Tiburon 3.8L [$28,500] - RWD, NA 3.8L making 345 hp, 6MT and 8AT.

Tiburon 3.3t [$33,000] - RWD, 3.3t making 365 hp, 8AT.

Tiburon R-Spec [$36,000] - RWD, 3.3t making 390 hp, 8AT.
I'll toss in the Kia here. Fall 2017.
Kia Stinger 2.0t [$30,500] - RWD/AWD, 2.0t making 255 hp, 8AT.

Kia Stinger 3.3t [$37,000] - RWD/AWD, 3.3t making 365 hp, 8AT.

Kia Stinger GT-S [$44,000] - RWD, 3.3t making 390 hp, 8AT. Not until 2019.

Then here is where I think the Stinger's Genesis cousin will be. Spring 2018.
Genesis G70 2.0t [$32,000] - RWD/AWD, 2.0t making 255 hp, 8AT.

Genesis G70 3.3t [$39,000] - RWD/AWD, 3.3t making 365 hp, 8AT.

Genesis G70 Sport [$41,000] - RWD/AWD, 3.3t making 365 hp, 8AT.

(No higher performance version)
Like I said, it makes a lot of sense for Hyundai to make a 2-door sportscar and have Genesis make coupe above the G90. With the Lexus LC, BMW 8-Series, and Audi A9 all coming in over $90,000 there is a big opening for a big coupe for 6-Series money [$75,000].
Alrighty, that should do it for now. If you want to know why I think Hyundai is making a sportscar again then I'll write something up. But I think every company out of Asia is making a sportscar between 2018 and 2020. 
We know a Supra is coming at the end of 2018. Plus that little S-FR eventually.
In 2019 Nissan will celebrate 50 years of the Z car lineage. Need to have a Z car for that! Plus new GT-R should be hitting the US in 2020.
New generation of WRX goes on sale in 2019 and Subaru has grown immensely, average transaction prices are above the starting price of their most expensive model (that's crazy). Money and demand mean an awesome car cometh.
Mitsubishi will likely bring back the Evo in 2019. There is a slight opportunity for a 3000 GT due to Nissan. I haven't checked on any major historical markers for it though, but if people are tossing up $500,000 3KGTs then might as well build a new one and NOT make it a crossover please.
Mazda celebrates their 100th anniversary on 30 January, 2020. Whether it gets to be an RX-9 or an MX-7 will just depend on a powertrain breakthrough.

Honda...I have no clue since Type-R and NSX are already here and Honda doesn't do crazy updates.
Hope you all are beginning to see why I keep saying the next five years will be the greatest performance cars ever, period. Every market segment from $3 Million to $300,000 to $30,000 will have incredible cars that do WAY more than their price point (including those multi-million dollar cars). Good times.