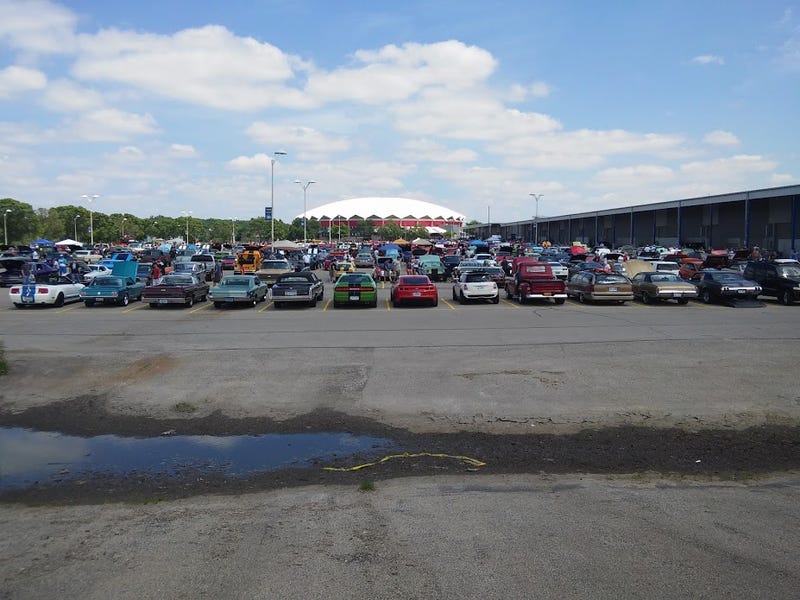 You want pics from the start of Power Tour 2015? WELL YOU GOT EM. So long as I don't get fucked in the butt by Kinja.
But first, I need gas.
Madison is 110ish miles away from home and my wife left me with a quarter tank. "THANKS HONEY" I said as we disembarked. We would have taken the Camry, but being so far away I didn't want to have any issues. The plan was to arrive before the auto-x began at noon. And we got there just in time I think.
We could hear cars ripping around the course as we parked ($7, even though the Hot Rod site said admission for spectators was FREE) in the fields behind the Alliant Center, and there were a surprising number of nice cars just chilling out here in the weeds. Like this poor thing:
And a bunch of cars that weren't Trans Ams so IDGAF.
They're probably just rusting faster in the tall wet grass and weeds anyways.
Or look like they were abandoned there long ago
Walking up to the autocross I knew the turnout was going to be awesome, because this cute little thing was waiting in the shade:
And this sexy beast was up on the dyno:
We go hard in WI.
After watching a few cars go roundy round the cones, we took a walk through the parking lot to see all the cars that had shown up so far for the actual Tour. And here we have what I hope is a support vehicle:
And the car judged (by me) the Most Likely To Encounter Reliability Issues On The Road:
It was also next to one of no more than THREE Chevy SS sedans. So I guess that makes THREE that they've sold so far.
Now for the Most Fuel Efficient Award goes to:
Now... I'm not going to post pics of JUST Trans Ams...
That would be very stereotypical of me....
And people would probably bore of it really fast...
Because there's a lot of OTHER cars out there than just Formulas...
Even those on LING LONG tires...
Or just stuffed full of bad ass looks...
Or just plain bad assed...
MY GOD MEME.JPG
WHATISTHISICANTEVEN
IMHAVINGACRISISHELP
HNNNNG
LS-SEX
Wait, are those Chrysler door handles?
Moving right along, there were plenty of OTHER cars there, like I said..
From Corvettes to Corvairs
And from Beetles to.... Beetles.
Lots of different countries were being represented, like England
Mexico
Japan
Even Italy
But the predominant country was, of course, 'MURICA.
'MUIRCA
'MUURRRRRIIICAAAAAAA!!!!!!!!!!
Most 'MURICAN of them all? This thing right here.
And what's more 'MURICAN that driving your car into a ton of 'MURICAN bugs?
Bugs from 'cross 'MURICA from Wyoming to Wisconsin
And here's just a smattering of car pics, with notes if I have something to say about them:
Can we all agree this thing is just plain dope?
OH LOOK A PENNY!
HELLO
Two rival states, united by the love of Black Magic
FOXXX
Honk if any parts fall off
I kinda want to know what running gear is under there, but didn't have time to ask
Chrome won't get you home... but lets try anyways.
Wagon love INCOMING:


"KIIILLLLL, MEEEEE"
Ow my neck
For Mr. Rolland:
Where's that Cobra Kid dude?
Cause I think I saw his and his dad's cars.
Which SUV would you choose?
Pickup, or Suburban?
T-Type?
Or Bugeye Sprite?
Ratty Muscle?
Ratty truck?
Or ratty Bug?
Or maybe a hippy Bug is more your style?
Would you pick shiny?
Or matte?
Or is Miata (with an LS swap) always the answer?
That moment when your shirt matches your Prowler....
Hey, you can't park there...
But I did find the parking for Fords, huehuehue
And I need your help on this one...
WHAT'S WITH THE REAR WHEELS??
Up here errthang is okee dokee
And that's it. That's most of the pics I had time to take that didn't turn out blurry because my potato got baked in the hot sun.
And I'll leave you with this. It's not so Home Depot as I thought. And no, I couldn't open the door to look for exposed fasteners.