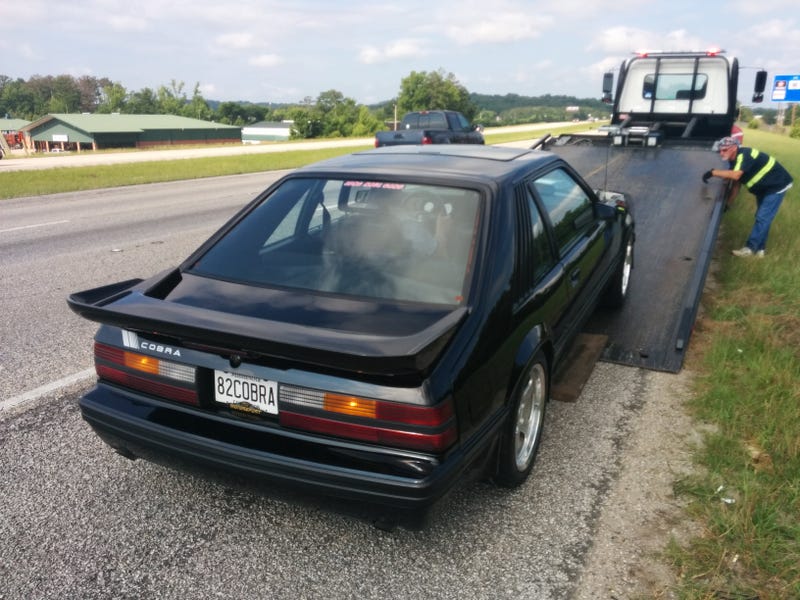 This is definitely not how you want to start your day on the power tour.
About 10 miles down the road toward Gulfport, MS a bad connection to the aftermarket fuel pump knocked us out. Ended up calling in a tow from a place with high ratings that had a shop.
The shop was Action Towing out of Hoover, AL and they were a little redneck, but knew their stuff well. Our tow truck driver's son has a fox body and managed to get off work early to come help us out for a few hours. We weren't sure if it was a bad pump at first, so we had ran out to get a stock fuel pump so we could at least be moving and would be fine if we just went down the road carefully. They had dropped the tank by the time we go back, and I could see why the connection was bad. My dad, in his infinite wisdom, used a flat spade connector on a round post connector because, "I didn't have time." BS. We ended up going to a local autozone and found a harness that used a connector that would give a good connection on all four sides, and allowed us to avoid using this:
After testing the pump, it was still good, so we finished up the wiring and finally got back on the road.
We had a couple more hiccups down the road before we also found one of his main grounds to be bad, as it had come loose with all the bumpy roads we had been on throughout the trip. After that was fixed, the rest of the trip was fine.
We missed the show in Gulfport, but the route we took to get in was GORGEOUS. US-49 was so beautiful and relaxing to drive through. I've never been to the Mississippi Gulf Coast, but I loved it.
A good dinner and some sleep were definitely in order.
Day 7 post coming soon.